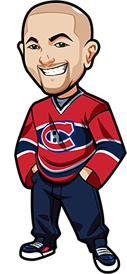 Written by Graeme on Friday, April 10th, 2020
Follow @BetNHL
Good news – no new earthquakes in Yellowstone yesterday. 1 day down, 20 to go for us to hit that under. Keep it chill Yellowstone.
Quick note that I've been posting Nicarauga soccer tips over at BetSoccer.ca and absolutely crushing it. Just had another two wins on Wednesday and I've just posted tips for Saturdays game. I tend not to post them here as I prefer more light-hearted tips here but yeah killing it.
Today we will see if the beer pong pick of JustMike is correct. Hate to bet against a Patriot in Amendola. Will always be a legend. I'll never forget that Edelman to Amendola pass against the Ravens. Great times.
Speaking of football – I was running some simulations in Madden yesterday and ended up getting invested in it and going into career mode. it took until the 7th round for me to get drafted bad enough. But to make it worse….I got drafted by the bloody Bengals. Ugh. Still better than getting drafted in NHL by the Leafs I guess.
Anyway I ran a few sims yesterday, crunched the numbers and am going to tackle the Madden sims today.
These are available at Bovada for Americans.
For everyone else – I don't see them anywhere but BetOnline. do run some sims. I like Browns -4.5 there as they are much better in game than in real life against the Bengals.
Madden 20 NFL Sims Betting Tips:
In the first game I am going to take the Rams -6. The Cardinals struggled last season in real life with a 5-10-1 record and finishing bottom of NFC West. What makes it sadder is their team in game are probably worse than their real life counterparts. The Cardinals defense is brutal. The other day when the Cardinals simmed against the 49ers, Murray had a brutal game. Cards lost to the Giants a couple of days ago too where Murray rocked a 62.7% completion.
Rams gotta take them to town I think.
I'm also going to take Patriots -6. I've noticed that Rivers in-game really isn't as good as in real life. The Pats had that brutal loss to the Texans but I believe that was nothing but video game variance. I like them to take this one.
Hockey Betting Tips:
This time we'll look at the Liga Pro Short Hockey 3×10 Mins. Specifically, the Ledyanye Voiny vs Stalnye Kabany game. The over/under for this one is set at 7.5 goals and Voiny are favourites at 2.10 odds.
Kabany come in on a 3 game winning streak for this one however last time these two played, Voiny crushed them 7-2. Back in March however Kabany got the 8-5 win and also a 5-4 win and oh hey also a 3-1 win because holy crap they play a lot of hockey together.
Voiny had a really bad time during a few of those losses as they had a losing streak going. They're playing a bit better now.
However surely a lot hasn't changed in the last week. I've got to go with the underdogs here. Stalnye Kabany to win at 2.35 odds.
That one is at Bet365 (Americans: We recommend http://www.bovada.lv.
Follow @BetNHL
BetNHL.ca » Tonights Tips »