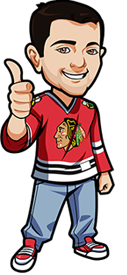 Written by Scott on Tuesday, April 9th, 2013
Follow @BetNHL
Interesting night last night with some great games being played. Ovechkin is just on FIRE right now, and because of his recent play the Capitals are now in playoff contention. They are currently tied with the Jets for 3rd in the East, with a game in hand, thanks to the Division leaders being seeded 1, 2, and 3 in each conference. Its going to be a exciting finish for both clubs. The Blue Jackets shutout the Sharks keeping their playoff hopes alive. The Islanders won against the Flyers and are now in 7th and it looks like the Flyers will have to win all of their remaining games to even have a shot at make the playoffs.
Only 5 games on tonight and 2 of them are very important for all teams involved; The Bruins – Devils game will be a great one and one that the Devils need to win as they are in 9th place but its the Bruins so this game will be no easy task for them. The Maple Leafs and Rangers finish off their home and home games with the Leafs winning just 2 nights ago. The Rangers need to win this game to gain some valuable ground in the standings as they are sitting in 8th place with 3 teams chasing them down.
Here's the tips for Wednesday April 10th:
Maple Leafs vs Rangers: Over 5 Goals
This is third and final meeting between these 2 teams and the winner of this game will win the season series. The Rangers need this win sitting in 8th place. The Maple Leafs are now sitting in 5th but need to gain as many points as possible to ensure they stay in. The Leafs have been playing some really solid hockey as of late so the Rangers will need to bring their A game to have a shot at winning this crucial game.
The previous 2 games these teams played both had 7 goals scored in each game so when I saw the Over / Under at 5 I couldn't believe it. Not even a 5.5 just a 5 so this really is a no brainer. So head to Bodog and bet Over 5 goals in the Maple Leaf Rangers game
Bruins vs Devils: Bruins To Win
The Bruins are, as usual, playing great and sitting in 4th in the East. The Devils are sitting in 9th and need to win this game to close the gap between them and the 8th place Rangers.
This is the third and final meeting between these teams with the Bruins aiming for a season sweep with a win tonight. Ilya Kovalchuk will miss his 8th straight game with a shoulder injury so that sure doesn't help the Devils cause.
Head to Bodog and bet Bruins Will Win For 1.71 Betting Odds
Avalanche vs Ducks: Avalanche To Win
Now this may seem like I've lost my mind, but I think the Avalanche will win this game. After the comments J.S Giguere made after the teams loss to the very beatable Flames on Monday night you would have to think that it would light a fire under this teams ass. They are not going to make the playoffs but Giggy basically said that all the young players care more about their off season trip to Vegas then they do about winning or losing hockey games, Ouch.
Again this is going to be a tough game for any team to win but with what was said I think they are going to want to prove to fans and the league that they do care and will come out and bring it to the Ducks. Plus with the odds for an Avalanche win at 2.85 it's defiantly worth the risk. So to Bet Colorado will beat Anaheim head to [geocode id=5
Follow @BetNHL
BetNHL.ca » Tonights Tips »