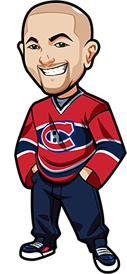 Written by Graeme on Saturday, April 10th, 2021
Follow @BetNHL
A 1-1 day yesterday.
The Islanders pick is one that I look back at and think it was a mistake. I mean they were on a back to back after a struggling victory over the Flyers. I even said I felt I'd prefer 1.80. I wasn't happy with the odds and I think I swayed myself by their home form more than anything.
Frustrating one but I've said it many times before – it's always good to look back and re-assess and see if you missed anything as well as messed up your judgement. That was a bad call on my part I believe. It was more that I wanted to back it rather than having the evidence to back it.
Sharks got the win nice and easy.
I was tempted by the Wild yesterday but I am glad I looked at the previous matchup in more detail and it put me off as that was a crazy one.
I've missed the matinee games but man that's per usual on Saturdays. I have plans early Saturday morning and it can be tough to find the time to get to them. Likely to happen more often.
Let's look at the 80 other games taking place today. With trade deadline looming it'd be easy to use that an excuse not to really cover anything but I'll see what we've got anyway. More than ever be sure to wait till closer to game time due to that.
I won't be watching much hockey tonight. Will be relaxing in the hot tub and watching Wrestlemania on the big screen. If you're looking to gamble on it here's my – Wrestlemania Betting Tips.
Blue Jackets vs Blackhawks:
I mean two terrible teams. We din't have any data since February. Blackhawks beat them 3 times in February with the Jackets getting a 6-5 win. Games can go all over the place. Looking at the advanced metrics for matchups between the two it flips back and forth. Honestly this is a real 50/50 match-up it seems and if you like small +EV bets the Jackets are there. Jackets are 8-7-6 at home Blackhawks 7-10-3 away. I would say Jackets true odds here are 2.00. They're 2.12 at BetOnline.
I think it's an +EV bet. I don't know if I can advise it but I am going to mull that one over a bit more. Honestly I'm very likely going to bet it but I can't see me advising it. I like to have strong enough feelings on a play.
Hurricanes vs Red Wings:
Canes come in on a 3 game streak and looking great. Wings haven't been too shabby recently. I think Canes -1.5 is an okay play but not at like 1.71 odds.
Leafs vs Senators:
Would have to be Leafs -1.5. They've covered that in most of their regulation wins lately. Sens given them trouble recently though. No play. This seems like one of those games ripe for the over but I am not betting overs right now.
Canadiens vs Jets:
I will never understand why the Winnipeg Jets are constantly underdogs against the Habs. The teams have faced off 7 times this season and the Jetse have won 5 of them yet they continue not to get respect.
This one is in Montreal where the Jets have 2 wins out of 3 including one just two freaking nights ago. Jets will be without Wheeler and the Habs without Price. We would have backed the Jets the other night except for the Wheeler loss.
Advanced metrics are quite mixed in regard to games so by them it's a real 50/50 type game.
This is similar to the Jackets one. I like it but not sure enough to advise it ya know? Will look more.
Blues vs Wild:
NOPE. Although the way this season goes, Wild win let's say….6-0. Or 5-0.
Predators vs Lightning:
Preds come in playing some good hockey. Bookies have them at 2.50 odds against a rather inconsitent Tampa right now.
Man I have sworn off overs yet I really like the over in this one. I don't want to back it. But 5.5. A very competitive match. I know Stamkos is out but man I like the over there.
I might break my no overs rule and get burned. Thinking about it.
Flames vs Oilers:
Flames are struggling HARD right now. Oilers are performing well. Lot of games between the two metric wise have been close. That last one both teams had the same xGF/xGA for example. I think Oilers are a marginal play here but not enough to back them.
Sharks vs Kings:
I don't tip back to back head to heads but I think it makes sense to back the Sharks. They literally just beat the Kings in back to back head to heads a week ago. Sharks going with Jones again tonight.
Look if the Kings get fired up after last night (it was a closer game than the score indicated) then hey so be it. But man sometimes you just gotta look at the data and be like "yep why not".
Like I said though – I never ever bet back to back head to heads.
Additional Summary: 2 plays I believe are mathematically correct in Jets and Jackets. The exact definition of a lean but I don't believe I can advise. 1 play I like but I struggle to break my rule. Then an over 5.5 during a period where I have sworn off overs and it's likely to blow up in my face.
Will think about them and may post in comments. If you guys have thoughts on them let me know! I'm betting all 4 regardless just dunno if I can tip them.
Follow @BetNHL
BetNHL.ca » Tonights Tips »