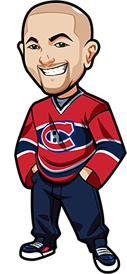 Written by Graeme on Sunday, April 10th, 2022
Follow @BetNHL
Great weekend of sports. Soccer. Hockey. Basketball. Baseball. The Masters. UFC. F1 Australia. Then waking up to watch Man City vs Liverpool. Love it.
Well I should have went with my gut yesterday – although that's why we do like to write about each game even if we aren't advising it. Then you can get our thoughts on it and it may help you back something even if we don't back it.
Rangers -1.5 was the one I was all over the place on and just couldn't decide whether I really felt it was an +EV play, or if I was pushing it. They put in the professional performance I expected and got the solid win to cement their place in the playoffs.
Then I also said that I had that feeling the Islanders get wiped out and that was exactly what happened.
The one pick I had was the Red Wings over the Blue Jackets. Detroit manged to blow a two goal lead in that one which was frustrating. They took it OT but couldn't get the win. In retrospect – I made the wrong bet there. It should have been draw no bet, or in regulation.
Here's the reasoning for that: in theory, overtime is basically 50/50. So you should be happy with anything above 2.00 in overtime. Now that's not always the case and it is team dependent. But yesterday when I analyzed the overtime performances of both teams this season, my opinion was that this was practically a coinflip if it went to OT.
The problem is the Red Wings we backed them at 1.86. So if I believed – which i did – that OT was a coinflip, then anything below 2.00 odds is a -EV play. Meaning that it's not a play we should be making.
In spots like that, I should either be going with the Draw No Bet prop depending on the odds, or taking a shot on the Red Wings in regulation instead. I should only be betting incl OT/SO at 1.86 odds for a team IF I believe that have a strong enough advantage in overtime to make it a +EV play.
So yeah no excuses – that was a bad betting mistake by me. I just wanted to write all that out because I don't believe people consider that sort of thing enough when it comes to bets.
Let's get on with todays games:
Capitals vs Bruins:
Washington look like they are on a roll, and ready to heat up heading into the playoffs. I've mentioned before I just don't like the Bruins this season. If this wasn't a B2B for the Caps I might back them here. But the odds are razor thin and not sure there is enough value.
Penguins vs Predators:
I don't bet Preds games. My gut says the Penguins get out of their rut with a convincing win here but man considering the form of both teams – the odds are brutal. Mathematically, the Preds may be an +EV bet. At 2.60, I think they are a value bet.
Wild vs Kings:
Feel like it's a good spot for the Wild. Would have to take them in regulation and they have went to OT a fair bit at home lately. Kings as well last three road results were solid and a fresh break for them from the Canadian teams – not sure Wild get the job done in regulation.
Lightning vs Sabres:
Hurricanes vs Ducks:
Based on their form and performances at the moment, Canes -1.5 or -2.5 is not even close to backable. I've never been a fan of betting the other side though as at +1.5 a lot of the time you're sweating an empty netter. Looking at the empty net stats for both sides it seems to lean towards once for the Canes slightly.
Blackhawks vs Stars:
Nothing here I mean how can you back a Stars team after that Devils loss? They've been better on the road but are heavy favourites here would have to take them in regulation. I mean they likely do it against the Hawks but man zero faith in the Stars. This team is meant to be fighting for the playoffs FFS. If anything I'd say the Hawks gub them.
Senators vs Jets:
I never advise anything with the Jets involved but I will say that the Senators 2.60 has value and I'll be betting on it regardless. Jets are all rah rah rah we gotta win out from here to make the playoffs but its like dudes you just lost to Detroit at home. And hell even the Senators at home. And barely beat the Coyotes and Blue Jackets. Just give the playoff race up already.
Although knowing the bizarro Jets watch them win every game now and have results go their way and make the playoffs. Money Puck has them at 0.2% to make the playoffs.
Anyway I do think the Senators have value here regardless. It's a gamble but a calculated gamble which is feel is +EV. I've analyzed overtime and happy to do it incl OT/SO with that value. Up to you if you want to take the risk or not.
Follow @BetNHL
BetNHL.ca » Tonights Tips »