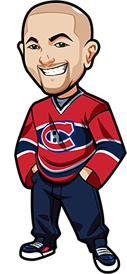 Written by Graeme on Sunday, April 11th, 2021
Follow @BetNHL
Well I'm glad I had no official tips last night as the leans I had didn't really go anywhere.
The only one that came in was the Jets. They absolutely dominated the Habs last night. Like I said yesterday I will just never understand why the Jets are underdogs constantly against the Habs. That's 6 out of 8 wins for Winnipeg. Habs just tapped out for the second half of the game it seemed. Soon as it was 2-0 Habs were like "we're done". Hopefully some of you got on that one.
I said the Jackets game was a 50/50 game and that proved to be the case. It was a very close one with the Jackets blowing the lead and losing 4-3. If you bet that one and lost don't worry – you clearly made the best mathematical bet on that one regardless of the result.
I liked the over in Preds/Lightning but not currently backing overs and that reminded me as to why. I also liked Sharks to a degree but have that no B2B H2H rule and that saved me there.
That's one reason I like covering each game – I feel a lack of pressure in regard to forcing picks which we have did in the past. We try not to (and I actually did that with that Islanders play on Friday) but it's a tough mindset on here trying to go a couple of days with no picks if we don't like something.
How about that Oilers game? Wow. Dominant performance by the Flames and a much needed one.
I'll be honest I missed most of the games as I was watching Wrestlemania out in my hot tub on the big screen projector: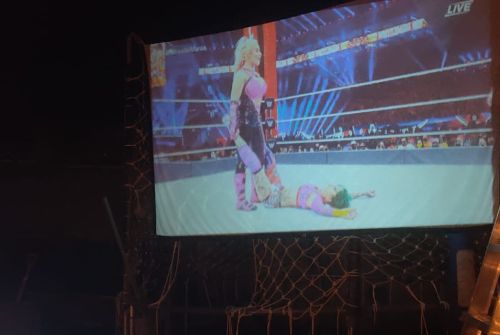 I did have a secondary screen going to watch some hockey and I've spent some time today watching the extended highlights of each game as well as analyzing the data just to keep up. Now I am ready for round two of Wrestlemania tonight. It was a surprisingly good show.
Let's look at todays games:
Flyers vs Sabres:
Flyers are heavy favourites here. Completely unbettable. When you look at Sabres latest results, and their recent performance against the Flyers you gotta think there is some value on them at about 3.00 odds. Flyers are still battling for the playoffs and I mean they are putting in the effort generally but not getting enough convincing results.
Thing is this is coming off that 6-1 game. So you have Flyers motivated for that. We have seen them react decently well to getting thumped (and it's ridiculous how many times that has happened this season). Goalie wise if it's Ullmark vs Hart I mean Ullmark is the better goalie just based on this season.
This is one where I mean I think the value is on Sabres here but there are too many red flags so I can't advise it. If you want a prop go with highest scoring period the 2nd period or something like over 1.5 goals in the 2nd period (I prefer that one).
Knights vs Coyotes:
The inconsistency from the Knights lately makes me stay away from this one.
Ducks vs Avs:
Would have to be Avs -1.5. I gave my reasons the other day for why I wouldn't take that. It was a tight 2-0 win thanks to an empty netter. Same reasons apply.
Islanders vs Rangers:
I expect Islanders to bounce back here but that's just one of those gut things. When you watch a crap load of hockey and bet on it you can kind of get into the flow of things I feel. From everything I've seen this season I feel Islanders get the W here.
Despite the result I didn't think Islanders were too bad in that last game.
I honestly hate going back to games where I've just bet it – regardless of whether it was a win or loss. I mean you saw my thoughts on the Sharks game yesterday. But I look at this one and I just think Islanders will have more drive and be super up for it. Coming off that loss and it was a rare one at home etc. In strong contention for the East Division win obviously.
I am of course reminded of the old saying "fool me once" and Rangers have been damn good lately but I'm going back to the well here.
Islanders win incl OT/SO
Canada: 1.83 Odds at BetOnline..
USA: -120 Odds at BetOnline..
Everyone Else: 1.83 Odds at BetOnline..
(Odds correct as of 2021/04/11 12:27:38 PM EST but are subject to change.)
Devils vs Penguins:
Penguins will likely get the job done. I feel like after the big score last time this one goes under and it's a low scoring game. No bet though.
Bruins vs Capitals:
I mean I'd say value on Bruins here at like 2.10 odds or above. Ovi is looking like he is heating up though which will be good for the Caps. Bruins going with Vladar. No bet in this one.
Predators vs Stars:
Would think Preds bounce back but on a back to back against a rested Dallas team I'd almost rather be on Dallas here. No bet.
Follow @BetNHL
BetNHL.ca » Tonights Tips »