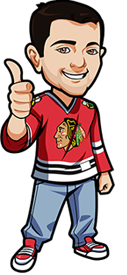 Written by Scott on Tuesday, April 11th, 2023
Follow @BetNHL
10 games yesterday.
The Sens beat the Canes 3-2.  Giroux scored twice and added an assist and become just the 96th player to reach 1000 career points.
The Stars beat the Wings 6-1 and Pavelski scored to give him 1000 points for his career and is the 97th player to do this.
The Jets beat the Sharks 6-2 and Karlsson scored twice in the loss and became just the 6th NHL defenseman to hit 100 points in a season.  He joins Brian Leetch, Al MacInnis, Paul Coffey (five times), Denis Potvin, and Bobby Orr (six times).
The Flames lost 3-2 to the Predators in a shootout and were eliminated.  The Leafs beat the Panthers 2-1 in overtime and the Sabres beat the Rangers 3-2 in a shootout.
10 more games for us again tonight.
Capitals vs Bruins
With the Caps eliminated I'm not sure how much drive they will have for this game after playing yesterday.
The Bruins have already broke the single season win record so I'm not sure what they have left to accomplish this season.
They may take this game and their final game against the Habs as a chance to rest players before the playoffs start.
Red Wings vs Hurricanes
Wings are out.
Canes should win this game with ease as they are at home where they have gone 27-10-3.  But they have dropped their last 2 games.
Leafs vs Lightning
This is going to be a fun game to watch.   It's a preview of the 1st round matchup we are about to see.
No idea who wins but will for sure be watching.
Jackets vs Flyers
Both eliminated so nothing here.
Sabres vs Devils
Sabres are still in the playoff hunt but .
The Devils can still take 1st in the Metro.  They are 1 point back of the Canes.
Blackhawks vs Penguins
The Hawks are playing like crap like they have all this season.
The Penguins need to win this game.
Would lean towards a Pens win but the odds make it unplayable.
Jets vs Wild
No idea here.
Oilers vs Avalanche
Both teams are in the playoffs.
The Oilers are in 2nd in the Pacific with 105 points and the Knights lead the divison with 107.
The Avalanche are in 1st in the Central but the Stars have the same number of points with one extra game played.
Should be a good game. 
Kraken vs Knights
The Kraken need these points as they can still catch the Kings.
The Knights need points to stay ahead of the Oilers.
Canucks vs Ducks
Both eliminated so nothing here.
Follow @BetNHL
BetNHL.ca » Tonights Tips »