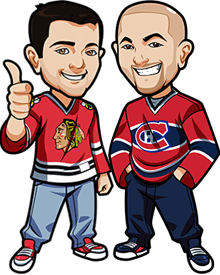 Written by Graeme & Scott on Friday, April 13th, 2018
Follow @BetNHL
It was another night of great NHL playoff action and some thrilling games.
The Devils did what they could but as expected the Lightning were too strong for them and their offense took over. Going to be interesting to see if the Devils can find a way to stop them.
For all the hype on the Leafs they were given a wakeup call with a solid thumping from the Bruins. The highlight of which was part 2 in the Marchand/Komarov love storyline with Marchand licking away at him as if he had chocolate inside.
The Jackets beat the Capitals 4-3. The Jackets were pretty weak on the PP during the regular season but they took full advantage last night with both their 3rd period goals being on the PP. They did well to claw back from 2-0 down too and that's going to be a fun series.
Preds did the business over the Avs as expected and wow – how about Kane stepping up for them Sharks.
Let's get onto tonight. As always we will be providing both our own opinions on the games. We will also provide unit sizing advice of 0.5u or 1u or a rare 2u. This is simply to show our confidence in a particular pick.
Flyers vs Penguins Game 2 Betting Tips:
Scott: Well game number #1 was a reminder as to why the Pens are back to back champs.  They went out and destroyed the Flyers winning by a touchdown.  Crosby with the natural hat trick is a scary sight for Flyers fans.  The Flyers were bad and they even admitted it themselves.
I can't back the Flyers in this game after their effort in the last game.  Hopefully for them they can have a better effort in this game and take that back with them to Philadelphia and make a series of this.
Penguins in regulation  – 2u
Graeme: The Flyers were not a bounce back team in the regular season. They're going to need some industrial strength trampolines to bounce back here.
The Penguins looked absolutely incredible. It's interesting though as in the first few minutes of the game it looked like it was going to be an open game. One of those 4-3 types of games but then the Pens took over and the Flyers just couldn't compete.
I'd like to think there'll be a better effort from the Flyers tonight. It's an interesting one because while I can't bet against these Penguins, they ARE a team who get complacent. Don't blindly back them here. Think of how they'd go to Montreal and win 5-3 (when the Habs were doing some solid home performances) and then get thumped by the Islanders 4-1.
I just can't risk as much based on one game. 0.5u on Penguins in Regulation
Canada: 1.78 Odds at Mr. Green
USA: Bet at Bovada.
Everyone Else: 1.78 Odds at Mr. Green
(Odds correct as of 2018/04/13 11:33:40 AM EST but are subject to change.)
Wild vs Jets Game 2 Betting Tips:
Scott: Game one was awesome.  Some huge hits and was, in my opinion, the game of the night.  Laine scored in his first playoff game and with that out of the way he is going to be a beast for the Jets.
The Wild are really missing Suter.  They looked rough in their own end and will need their remaining defensemen and the two AHL players called up to figure out a way to correct this.
The Jets fans are insane and the "Whiteout" must be intimidating to the Wild.  I do expect this to be another great game and am going with the home team Jets to make it 2-0.
Jets win in regulation – 1u.
Graeme: Jets/Wild was a real fun one although my favourite game of the night was the Kings/Knights. We should see the physicality continue tonight.
What I really liked was the Jets willingness to fight back. They went down 2-1 but fought and kept fighting and pushing. I do think that even without Suter, the Wild look good but it's hard to bet against these Jets at home at the moment.
Jets in Regulation – 1u
Canada: 1.87 Odds at Mr. Green
USA: Bet at Bovada.
Everyone Else: 1.87 Odds at Mr. Green
(Odds correct as of 2018/04/13 11:33:40 AM EST but are subject to change.)
King vs Knights Game 2 Betting Tips:
Scott: Game one featured some incredible goaltending.  Will be fun to see how long that will continue.  Game one was also a good physical game which had 127 hits.  That's amazing considering that the Knights aren't known for that side of the game.
The Kings are going to be without Drew Doughty who was suspended for a hit to the head in game one.  That's going to hurt them when they will be without one of the best defensemen in the league and with the series still in Vegas I like their chances.  I could see this game and others in this series needing extra time so I have to take them including OT
Knights incl OT/SO – 0.5u
Canada: Use the free $20 money line bet at Sports Interaction.
USA: -150 Odds at BetOnline..
Everyone Else: 1.66 Odds at Bet365.
(Odds correct as of 2018/04/13 11:33:40 AM EST but are subject to change.)
Graeme: While Fleury racked up more saves, I thought Quick was the real hero here. The Knights had some extremely creative attempts at goal and some of Quicks saves were just magnificent. However it's hard to know if we can count on him to do that night in, night out.
Doughty being out is going to be a huge loss for them. If it wasn't for that I'd be reluctant to even tip anyone here but I think Quick kept the Knights in the game, he can't do that every time, and Doughty being out is a big loss for the Kings. You need those hard workers against the Knights.
I'm going to go with Knights in Regulation – 1u as I feel they're still undervalued and I felt they showed in Game 1 that they have the same early regular season work ethic. I'm tempted to go with 2u but Quick has me concerned just enough.
Canada: 2.10 Odds at Bet365.
USA: Bet at Bovada.
Everyone Else: 2.10 Odds at Bet365.
(Odds correct as of 2018/04/13 11:33:40 AM EST but are subject to change.)
Follow @BetNHL
BetNHL.ca » Tonights Tips » April 13th, 2018 NHL Betting Tips