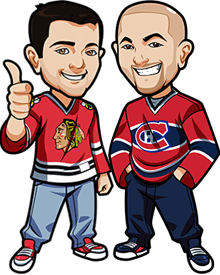 Written by Graeme & Scott on Saturday, April 13th, 2019
Follow @BetNHL
Ho boy!
The headline news coming out of last nights playoffs is of course the Blue Jackets 5-1 thumping of the Tampa Bay Lightning.
You could put Game 1 down to complacency and over confidence. You can't do that with last nights game.
Tampa just don't look like they want it. Of course the Blue Jackets can't get cocky – they went up 2-0 against the Capitals in the series last year and that didn't end well. But at least in those games, Capitals looked like a contender. Tampa quite simply do not.
They'll be glad to get away from home and the pressure that is there. And hopefully Kucherov gets a couple game suspension – love physical and aggressive hockey but not that cheap shit.
In the other games, the Jets managed to break the Binnington barrier. Unfortunately it wasn't enough as the Blues won 4-3,. Winnipeg are also in grave danger as they struggled on the road last season.
The Penguins went down 2-0 as well in a game that had the chances but some solid goalie performances and way too many penalties by the Pens.
The Knights were the only team to redeem themselves. They won 5-3 in a thriller of a game. The end of that first period will be a bit of controversy but it was good to see the Knights stand by Fleury in that game. It was the sort of hard working performance that drove the Knights to the finals last year. And major props to the Knights penalty kill unit. They earned their pay last night.
A nice spread out day today with games beginning at 3pm, 6pm, 8pm and 10:30pm EST. Couple that with the Masters, the beginning of the NBA Playoffs, UFC 236 and the usual array of soccer games – it's the perfect day to just camp out in front of multiple TVs all day long.
Let's get to it:
Hurricanes vs Capitals Game 2 Betting Tips:
Scott: Game one was a 4-2 Capitals win but even in the loss the Canes showed some push including a stretch where they didn't give up a shot for 9 minutes and outshot the Caps 29-18 in the game.
With that effort against the defending champs I have to think that the Canes gained some momentum and will need to cut down on penalties where the Caps scored 2 powerplay goals. I see this game being closer than game 1 and I am going to avoid a tip for game 2.
No Tip
Graeme: As can be pretty standard for the Carolina Hurricanes – in the advanced metrics they win in almost every column yet they came out as losers after Game 1.
We'll see those type of similar performances throughout the series no doubt. That period where the Canes didn't give up a shot for close to 10 minutes – we'll see that type of thing again.
Canes will continue to work hard but I just think quality wise, the Caps are going to take it.
It's a very tricky game. Hurricanes are one of those teams where there's a sweet spot in the odds where you just have to bet them and I think this is it. In saying that I have a strong feeling the Caps are just able to stay ahead of them. Gotta agree no tip although I'll probably end up caving and throwing money on the Canes before the game starts. Just feels mathematically the right play.
Predators vs Stars Game 2 Betting Tips:
Scott: After losing home ice advantage with their game 1 loss, the Predators need to regroup for game 2.
The Preds still have the experience in the playoffs and that will allow them to bounce back. The Stars were the quicker team last time out but they have 7 players who are in their first playoffs so it will be interesting to see how the respond moving forward.
I like the Preds to even the series in todays game.
Preds in regulation – 0.5u
Graeme: There were quite a few upsets in the first round of games, and the Stars beating the Predators was one of them.
Dallas were barely above .500 on the road in the regular season but that didn't matter in this one.
Of all the home favourites who lost their first game – the Preds are just one of those teams I feel the most confident about bouncing back. And honestly the price is delicious.
Preds in regulation – 1u
Canada: 2.10 Odds at 888 Sports.
USA: +105 Odds at Bovada.
Everyone Else: 2.10 Odds at 888 Sports.
(Odds correct as of 2019/04/13 11:58:07 AM EST but are subject to change.)
Bruins vs Leafs Game 2 Betting Tips:
Scott: The Leafs were the better team in game 1. The Bruins scored first but it was all Toronto after that.
I think the Bruins will be ready and will play a cleaner game tonight. They need to cut down on their turnovers which the Leafs turned into chances. And they need to use their weight and play a more physical game which has been the Bruins style and allowed the to have success while wearing out the opposition.
I still like this to be a long series and I'm going to go with Boston.
Bruins win incl OT – 0.5u
Canada: 1.77 Odds at Sports Interaction + free $20 bet.
USA: -140 Odds at GT Bets..
Everyone Else: 1.71 Odds at Bet365 (Americans: We recommend http://www.bovada.lv.
(Odds correct as of 2019/04/13 11:58:07 AM EST but are subject to change.)
Graeme: Leafs came out strong and motivated and confident in Game 1. In the series prediction where I took the Leafs, I said that's what we had to see from the Leafs – a team that is motivated.
I think we can count on the Leafs offense to produce the goals again. However I also think the Bruins will match them.
I think there's a strong possibility the Leafs win but I'm going to go with this being a high scoring one instead.
0.5 on Over 6 Goals incl OT
Canada: 1.95 Odds at Bet365 (Americans: We recommend http://www.bovada.lv.
USA: -105 Odds at GT Bets..
Everyone Else: 1.95 Odds at Bet365 (Americans: We recommend http://www.bovada.lv.
(Odds correct as of 2019/04/13 11:58:07 AM EST but are subject to change.)
Flames vs Avalanche Game 2 Betting Tips:
Scott: Game 1 was a Flames clinic. Smith was incredible and the Flames blocked 19 shots. It was a dominate performance.
Smith playing like he did and with the Flames still at home I dont see this game going any other way. If Smith goes on a run and the Flames continue playing like they did than this team could go on a long playoff run.
Flames win in regulation – 1u
Graeme: After the first night in the NHL, it was very nice to see the Flames come out and remind us that favourites actually CAN win – and they did it in dominant fashion.
Avs had their moments of course and no-one expected Mike Smith to put in such a stellar performance.
The question is can he do it again? Plus the Flames put up 19 blocked shots on top of that – stellar defensive effort from Calgary which was their biggest weakness going into this.
I'm temped by the over as I don't know if the Flames can do a similar defensive performance. But then I think back to the regular season – so many games where the Flames conceded a bunch of goals, yet were still able to get the win due to their offense.
When you weigh up the potential scenarios, I'd go with the Avs win over the "Over" if you are considering that. But with the Flames checking all the boxes, I'm going to go with 1u on Flames win in regulation.
Canada: 1.79 Odds at 888 Sports.
USA: -130 Odds at Bovada.
Everyone Else: 1.79 Odds at 888 Sports.
(Odds correct as of 2019/04/13 11:58:07 AM EST but are subject to change.)
Follow @BetNHL
BetNHL.ca » Tonights Tips »