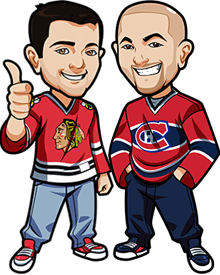 Written by Graeme & Scott on Saturday, April 14th, 2018
Follow @BetNHL
It was another night of interesting NHL playoff action, and a double overtime West Coast game which was some edge of the seat stuff.
For us Kingston boys we also had the joy of watching the Frontenacs move to the Conference final after beating the Barrie Colts. Congrats to the Fronts for getting there and long may it continue!
The Philadelphia Flyers aren't normally a big bounce back team but they came back strong against the Penguins. It was a tough one for Pittsburgh who had a lot of great chances and it just wasn't their night. That Crosby open goal miss for example – dude scores that 99/100 times. Soon as he missed that you knew it was over with. From a viewing perspective that was awesome though as it adds a lot of intrigue for Game 3 in Philly.
The Jets looked phenomenal as they kept battling away and thumped the Minnesota Wild 4-1. Can't wait to see Game 3 in Minnesota which is a big test.
The game of the night was the Kings/Knights. Both goalies put on great performances and Quick in particular looked amazing. That wasn't enough though as Haula scored in the 2nd overtime period to put the Knights up 2-0.
We love it because even after seeing two games between all these teams, the Game 3s are real head scratchers as to how they'll all turn out. From a betting perspective it's difficult but that's okay – makes for exciting games and lots of water cooler talk and that's what we prefer.
Quick note that Graeme & Vin over at NBA Tips have did previews for all the NBA Playoff Series beginning today. Following the same setup here in regards to series picks then individual game picks. Here's links to them:
Spurs vs Warriors, Wizards vs Raptors Series Betting Tips.
Heat vs 76ers, Blazers vs Pelicans Series Betting Tips
Jazz vs Thunder, Rockets vs Timberwolves Series Betting Tips
Bucks vs Celtics, Pacers vs Cavaliers Series Betting Tips
Let's get on with todays action with 4 games going – 2 of them kicking off at 3pm EST. Why the hell not stagger them??? Goddamn NHL:
(All odds correct below as of 2018/04/14 11:09:46 AM EST but are subject to change.)
Avalanche vs Predators Game 2 Betting Tips:
Scott: Forsberg put on a show in game 1.  He scored twice with the second being an unreal goal which we will be seeing for a while.  The Avs looked good through the first two periods but the Preds took off from there.
I like the Preds to come away with another win in this one on home ice but the odds are bad for that.
Going with the over instead as I expect the Avs to have a better effort for all 3 periods.
 
Over 5.5 incl OT – 0.5u  
Graeme: I absolutely loved what I saw from the Predators in Game 1. They were a team I hated to back during the regular season and I never did – and one reason was because in games like that where you'd expect them to win…..they'd fold. Seen it so many times over the past two years. However it's the playoffs and they stepped up their game. I also liked what I saw from the Avs. They just kept going and going and really until Forsbergs 2nd they were close to getting back into it. I think that was a sound strategy and I like them to continue that. I don't think they'll be deflated and they'll push hard here as they were competitive. If their PP unit gets kicking that could be huge for them. Over 5.5 Goals – 1u
Canada: 1.83 Odds at Bet365 (Americans: We recommend http://www.bovada.lv.
USA: -120 Odds at GT Bets..
Everyone Else: 1.83 Odds at Bet365 (Americans: We recommend http://www.bovada.lv.
Devils vs Lightning Game 2 Betting Tips:
Scott: The Lightning had their depth on display in game one.  Their top line scored an unassisted  empty net goal but Palat, Johnson and Gourde took care of business for Tampa.
Taylor Hall had a great game for the Devils in his playoff debut scoring a goal and adding an assist.
The Lightnings depth was too much for the Devils in game 1 and I expect the same in this one.
Lightning in regulation – 1u  
Graeme: It was an excellent performance by Tampa in Game 1 although I felt the Devils were playing a bit too cautious to start and that cost them. That Tampa 2nd line is great and was tough for the Devils to deal with. Honestly I just think overall Tampa are too strong and an individual performance by Hall wouldn't even be enough. Lightning in Regulation – 1u.
Canada: 1.78 Odds at BetOnline..
USA: -138 Odds at BetOnline..
Everyone Else: 1.78 Odds at BetOnline..
Bruins vs Leafs Game 2 Betting Tips:
Scott: Well game one was a good game, better if you're a Bruins fan.  They looked dominant at times and won 5-1.  Kadri lost his cool a few times and the last earned him a 3 game suspension.
Matthews, Marner and Nylander were virtually invisible in game one and with Kadri now out they will need those 3 to step up if the want to make a series of this.
But with the way Bruins handled Toronto in the first game I have to think they'll do the same in game 2.  Although I hope I'm wrong.
Bruins in regulation – 1u 
Graeme: It's funny. I went to New Orleans for Wrestlemania weekend and it was like I came back to a parallel universe. As when I went away the thought process from most people was "Bruins are going to take the East" and when I returned, all I heard was "Leafs are going to win the series".
At first I thought it was just general Canadian bias but I researched it outside of Canada and so many people loved the Leafs. I just didn't get it. I backed the Bruins to win the series, and after that thumping in Game 1 along with the Bruins home performances, I'm legitimately stunned at the odds today. Bruins in regulation for 1u is my bet. I'd go with 2u based on how I feel but I really feel I must be missing something about this Leafs team and that has me concerned. Not that I think they're bad or anything but Bruins have just been on another level – especially at home – all season.
Canada: 2.00 Odds at Sports Interaction + $20 Free Money Line Bet.
USA: -110 Odds at Bovada.
Everyone Else: 1.95 Odds at Bet365 (Americans: We recommend http://www.bovada.lv.
Sharks vs Ducks Game 2 Betting Tips:
Scott: In his first taste of playoff hockey, Evander Kane didn't disappoint scoring twice helping the Sharks to a 3-0 win.  All of the offense came in the 2nd period.
The Sharks took advantage of a two man powerplay so the Ducks need to be cautious as the Sharks will be looking to do damage again with the man advantage.
I expect a better game from the Ducks in this one.  They have a chance to even the series and come away from home with momentum
Ducks win incl OT – 1u  
Canada: 1.76 Odds at Bet365 (Americans: We recommend http://www.bovada.lv.
USA: -132 Odds at GT Bets..
Everyone Else: 1.76 Odds at Bet365 (Americans: We recommend http://www.bovada.lv.
Graeme: That was a surprising first game as the Sharks thumped the Ducks 3-0. Freaking Evander Kane. What a pickup. You look at his stats and he's not really a long streak player but he's usually good for a short streak of 3-4 games and that's bad news for the Ducks. Sharks offense looks good but I like the Ducks to fight hard in this one as well. I'm taking Over 5 Goals for 1u based on the fact that I expect a better Ducks performance, but I think Kane is going to be good for at least a point here.
Personal bet but I'm also going to back Kane to get at least 1 point at Casumo.
Canada: 1.97 Odds at BetOnline..
USA: -109 Odds at GT Bets..
Everyone Else: 1.97 Odds at BetOnline..
Follow @BetNHL
BetNHL.ca » Tonights Tips »