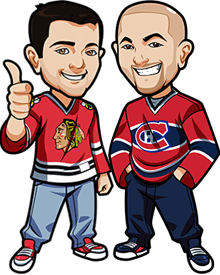 Written by Graeme & Scott on Sunday, April 14th, 2019
Follow @BetNHL
Everyone has now played two games in the NHL playoffs and in the latter round of games, we've got three great battles.
The Hurricanes came up short again against the Capitals. They're doing what they can and putting in excellent performances – but the Capitals are also performing well and are quite simply a better team.
The Maple Leafs got thumped by the Bruins 4-1. The Bruins came out aggressive in that one and honestly the Leafs just didn't want to be a part of it. They looked like they were playing scared hockey. That's going to be concerning for the Leafs going forward if they can't match that aggression.
The Predators are struggling to score but were able to get the overtime goal against the Stars to take that one 2-1. Going to be a very interesting series that one as they tie it up.
Finally big props to the Avs. Many people – us included – didn't give them a chance after Game 1. However they came out hungry, were the more offensive team and deservedly got the win. Good to see and we may have a series on our hands!
First game today starts at noon EST so let's get to it quick (plus we want to get heading to the bar to watch the end of The Masters!!!)
Islanders vs Penguins Game 3 Betting Tips:
Scott: With the Penguins now down 2-0 they need to win the first game in Pittsburgh if they want to stay in the series.
This is the first time the Isles have held a 2-0 lead in the playoffs for over 30 years.
I like the Pens to win but the odds for a win including OT/SO for that are below 1.70. With one of the games in this series already needing extra time, I'm not confident enough in them to do it in regulation.
No Tip
Graeme: Everyone and their mother is going to be on the Penguins tonight.
It's easy to put the Islanders victories down to it being at Nassau and the Penguins being able to turn it around at home – but man, that last game the Penguins didn't show fight at all. Not sure what adjustments have to be made, but the Islanders will be fired up for this one.
It's interesting as Pens were extremely good on the road during the year too.
I'm 100% placing a small bet on the Islanders as I feel there is enough value there. But I just don't think I can advise that. Penguins are a dangerous team and just need a little bit more luck going their way. No Tip. It's weird as while I am probably going to place that small bet on the Islanders, I'm hoping the Penguins get the win just to wake up the series. Funny when entertainment is more important than profit.
Blue Jackets vs Lightning Game 3 Betting Tips:
Scott: The Lightning cruised through the regular season but now are sitting down 2-0 in the playoffs and the series is now moving to Columbus for the next two game.
And to make matters worse for Tampa Bay they will have to play this game without Kucherov who was suspended for 1 game.
The Lightning are a deep team so even without their leading scorer they will need to find a way to get a win. I think they can.
Lightning win incl OT/SO – 0.5u
Canada: 1.75 Odds at BetOnline..
USA: -135 Odds at BetOnline..
Everyone Else: 1.75 Odds at BetOnline..
(Odds correct as of 2019/04/14 10:56:07 AM EST but are subject to change.)
Graeme: I've got to take the opposite. The Blue Jackets are just getting no respect from the sportsbooks. You can put Game 1 down to complacency but you can't do that with Game 2.
Tampa are now without Kucherov and while they do have other options – the Kucherov foul is an example of the issues with Tampa right now. He was like a spoiled child out there.
If the home pressure was too much for the Lightning, or Game 2 was a reality check and they right themselves tonight then so be it. But I'm good with 0.5u on Blue jackets incl OT/SO. I'm always fine backing teams when the sportsbooks don't give them the respect they deserve (think of some of those Red Wings lines late in the season).
Quick note: When looking for best odds, I saw +120 and +115 or 2.20 and 2.15 at some places. I wouldn't advise those. 2.25 is the bare minimum for me.
Canada: 2.25 Odds at Bovada.
Everyone Else: 2.25 Odds at Bet365.
(Odds correct as of 2019/04/14 10:56:07 AM EST but are subject to change.)
Blues vs Jets Game 3 Betting Tips:
Scott: This is yet another series where its going the complete opposite way from what I thought before it started.
The Jets need better goaltending. Paul Maurice has confidence in him saying  "That's his career. If he had an off night, he got a little snarly, and he's been good. I expect him to be at his best." So if hes right than the Jets have a shot in this one. They need to find a way to get a win against Binnington.
I think the Jets have a chance and the odds for a Jets win make it worth going for
Jets win incl OT/SO – 0.5u
Canada: 2.45 Odds at Bet365.
USA: +145 Odds at BetOnline..
Everyone Else: 2.45 Odds at Bet365.
(Odds correct as of 2019/04/14 10:56:07 AM EST but are subject to change.)
Graeme: Well Game 2 at least felt like progress for the Jets. They were able to light up Binnington alas it wasn't enough.
They were counting on their two home games and now they have a massive game on the road.
Jets weren't too great on the road this season and I don't know if they have what it takes. There has been issues plaguing them all season and I lost faith in them awhile ago. I thought they'd be able to take this series due to the home games but that's not the case.
In saying that, it's essentially do or die for them and I can't bet the Blues in regulation. I do think there's probable value in that Jets line but they were someone I paid a lot of attention to this year, and completely lost faith in them a good few times during the season.
No Bet
Knights vs Sharks Game 3 Betting Tips:
Scott: With the series moving to Las Vegas, the Knights are in a good spot. They have the momentum going from winning their last game and now get to play in front of their home fans. The killed off 7 of 8 penalties and scored twice while short handed in game 2.
This seems like its going to be a great and even series with both teams scoring 5 times in their respective wins.
But the Sharks feel screwed by a disallowed goal which ultimately cost them the game. I expect them to be playing with an edge after that.
No Tip
Graeme: In Game 2, Fleury made 34 saves but Sharks still got three past him. So they have the ability to score against him. They'll be up for this one and wanting to take it. Knights have some really clinical finishing.
These two teams played three games at the T-Mobile last year and all 3 games were high scoring. Granted one of those was that Knights 7-0 Game 1. Man – remember that?
Anyway until I get slapped in the face, I'm fine following the over. Fleurys home/road split this year wasn't too big a difference at all.
Over 6.5 Goals incl OT: 0.5u
Canada: 2.04 Odds at BetOnline..
USA: +100 Odds at Bovada.
Everyone Else: 2.04 Odds at BetOnline..
(Odds correct as of 2019/04/14 10:56:07 AM EST but are subject to change.)
Follow @BetNHL
BetNHL.ca » Tonights Tips » April 14th, 2019 NHL Playoff Betting Tips