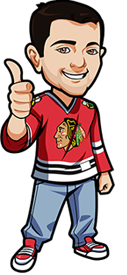 Written by Scott on Sunday, April 14th, 2013
Follow @BetNHL
As usual with BetNHL we had a winning night of tips as we went 2-0. The Blackhawks won beating the St. Louis Blues 2-0 and the Lighnting vs Sabres Game only needed just over 4 minutes to register the first goal. Our loss of the night came in the Red Wings vs Preds game where the Wings won 3-0 and we bet over 5 goals. Well can't win em all.
Well now we have 8 games to enjoy tonight and just too many to mention. But we will tip our cap to a few of them ; Sens vs Bruins will be a crazy game and with the Sens who knows who will win that one. Flyers vs Habs features 2 teams going in opposite directions and in opposite positions from their pre season standings predictions. Can the Blue Jackets continue their surge towards the playoffs? Well they have a great opportunity for a win against the terrible Avalanche. Just an awesome night of hockey and I can't wait for it to get started. I love it this time of year when after each night teams may either be eliminated of clinch a spot and we finally get to see who will play who in the first round.
But let's not get ahead of our selves and let's get to the tips for Monday April 15th
Flyers vs Canadians Betting Tips: Flyers to Win
I know the Habs are currently on fire but all good things come to an end. The Flyers are embarrassed about their season and want to at least sneak in a few wins during the remainder of the season to show fans that they will be back next year. And when you look at the betting odds for a Flyers win it is really worth the risk of betting against the Bleu, Blanc et Rouge.
At 5Dimes right now they have the BEST betting odds available for a Philadelphia Win at 2.70. So as you can see this is so worth the risk and something you should be betting on.
Stars vs Blackhawks Betting Tips: Over 5.5 Goals
Dallas still has a shot at making the playoffs as they are currently in 9th place and only 2 points behind Detroit for 8th place. And its because of that that I believe this will be a high scoring game. The Blackhawks don't roll over to anyone and they will not make this easy for the Stars. I am guessing this game will end in the 6-7 total goal range with the Blackhawks being triumphant.
Jump all over the 2.10 for a Over 5.5 Goal Total at 5Dimes
Blue Jackets vs Avalanche Betting Tips: Avalanche To Win
If for nothing else then I figure that the good luck for the Jackets is about to end and they will ultimately end up missing the playoffs tonight may be the night. Ya the Avalanche are just terrible this season but the Jackets have over achieved this season and I believe that the streak of good luck will come to an end for them tonight. I mean Gaborik or not this team wasn't expected to do anything this year and due to a late season surge now they are??
No they will lose this game to one of the worst teams in the league and you should jump all over the 1.95 Odds For An Avalanche Win at 5Dimes and make money off of the Cinderella team of the year
Graeme is still terribly sick so I will be doing the tips until he gets better. Let's hope he gets better soon so he can take part in all the money we have been making.
Follow @BetNHL
BetNHL.ca » Tonights Tips »