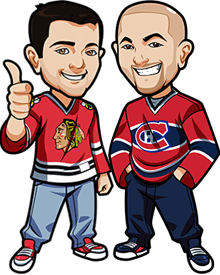 Written by Graeme & Scott on Saturday, April 15th, 2017
Follow @BetNHL
It was another night of great NHL action last night. The best action was to be found in Montreal where the Habs tied it up rather late, and then won in overtime.
The Blues pulled off another upset with a 2-1 victory over Minnesota. The only goal conceded by Allen so far is a PPG. That's going to give them a lot of confidence going into Game 3.
Today the action kicks off at 3pm EST. Ottawa look to go to Boston with at least a tie in games in that game. That's followed by the Leafs vs Capitals, Predators vs Blackhawks then Flames vs Ducks.
Let's get to it.
Bruins vs Senators Game 2 Tips:
Graeme: It was a tight game 1 between the two, but Boston prevailed. Marchand was the hero with a late goal with just over 2 minutes left.
I really liked how that goal came together. Ottawa got tired and the Bruins were hungry and relentless and you could just see it coming.
Of course we had that 2nd period where the Bruins got absolutely no shots on goal.
I'm very conflicted on this one. I like the Bruins but I'd prefer a higher price as it feels like a real 50/50 game that anyone could actually take.
If I was going with anything it would be Bruins to win. The reason for that is Boston beat the Sens 2-1 in Game 1 yet didn't play anywhere close to their best. If they can produce better than that I think they should be able to take it.
Scott: The Bruins won game 1 but the Sens were leading 1-0 after 2 periods and held the Bruins to zero shots in the the 2nd period.
The Bruins are hurting right now as 3 defensemen are out for game 2, Krug, Miller and Carlo and Krejci is also out.
With 2 days off between games and the Sens still at home I like them to even the series in this one.  The Sens need to get their offense going and with 3 defensemen out for the Bruins they should take advantage of this and score more frequently.
Sens win
Maple Leafs vs Capitals Game 2 Tips:
Graeme: That Leafs/Capital Game 1 was amazing – especially the 1st period. I was meant to go out with the family that night and I ended up staying home to watch the game after the way that 1st period went. It was an electric performance from the Leafs and even though I had money on the Capitals I found myself cheering for them.
The Leafs played at an amazing pace to begin the game and battled for every puck. It's something that I don't think they will be able to continue to do however. Despite the fact that the Caps had a couple of weak goals they also forced Andersen to make some incredible saves.
I'm going to take Capitals in regulation here. I just think they're too good and after the way the last game started they'll be prepared. Although who knows – Babcock seems to have quite a few tricks up his sleeve.
Scott: The Leafs looked great in game 1 and at times in the 1st they looked dominant.
They had a 2-0 lead but the Caps came back forcing OT where they scored for the win.
I like the Leafs to win at least 1 game in this series but I'm not sure when that will be.  With that being said, I can't back them in this one either but I do expect this to be a higher scoring game than the first one
Over 5.5
Best America Sportsbooks for NHL
Predators vs Blackhawks Game 2 Tips:
Graeme: In Game 1 the Predators got an early lead against the Blackhawks and held onto it. Chicago did their best but just couldn't get past Rinne.
The Predators played a good, disruptive game. I do think the Blackhawks should win this one but the price really isn't there and I'm not confident taking them in regulation. I'll probably regret not backing Chicago but I'm taking No Bet on this game.
The inconsistency of the Predators during the regular season really makes me want to back the Hawks but they never seem to fear overtime and I'm not 100% convinced on them just yet.
However if there was one team I'd want to be on it'd be the Hawks.
Scott: The Preds won game 1.  The Hawks have been in this position before so they don't feel the pressure as much as other teams would.
With them still at home and facing the chance of heading back to Nashville down 2-0, the Hawks are going to be ready for this game.
They practiced on Friday to tinker some things and unless Rinne turns into Patrick Roy, I like a bounce back game from the Hawks and the series to be tied up before it switches locations.
Blackhawks win in regulation.
Flames vs Ducks Game 2 Tips:
Graeme: Game 1 was a terrific game. Very close and evenly matched but the Ducks prevailed. They went down 2-1 but came back well. Although my god could you have a worse line change? Felt bad for anyone betting the Flames there.
I liked the Ducks prior to the series and not much in my mindset has changed. Ducks have the weak road record so that makes the home games that much bigger for them. I'm taking Ducks to win.
Scott: Game one was a great game.
The Ducks look much better this year then they did last when they lost their first 2 games to the Preds.
The Flames can't win in Anaheim it seems as they haven't been able to pick up a win there since 2006.
The Flames showed some life but couldn't get the win as Getzlaf was amazing and played how you want your captain to play.
I want the Flames to win this series but I don't think they will.  They have no success in California and I expect that to continue tonight
Ducks Win
Follow @BetNHL
BetNHL.ca » Tonights Tips »