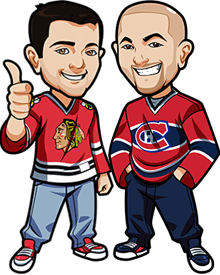 Written by Graeme & Scott on Sunday, April 15th, 2018
Follow @BetNHL
It was a great day yesterday for betting, as we went 3-0 with the tips that we agreed upon. Not a great day for the weather as an ice storm hit Canada turning our city into an ice rink. We had to postpone our meet up at the bar to watch all the games and just sit at our respective homes and drink and chat via Skype instead. Not as fun but still good times.
We had over 5.5 goals in the Avs/Predators game and that one went over with ease. It ended up being a 9 goal thriller and yet again – the Preds were the better team but the Avs kept fighting regardless. Going to be very interesting Game 3s there.
We had Tampa in regulation and it was a similar story – Devils did what they could but it wasn't enough. The Lightning were just too powerful and beat them 5-3.
Finally we went with the Bruins in regulation over the Leafs and that was the easiest bet of the night. An absolutely dominant and brilliant performance from the Bruins.
The only game we didn't agree on was the Ducks/Sharks one. Scott went with the Ducks who lost, and Graeme went with the Over 5 which was a push. The Ducks are in a very bad spot going into Game 3 there.
It's April 15th, 2018 and there are 4 games. We get to see the Flyers, Wild and Kings on home ice in Game 3s and the Capitals vs Blue Jackets Game 2 is also today.
It all kicks off at 3pm EST so let's get to it. This is one of those days where if you don't, you should take the time to sign up at BetOnline.. They don't offer any deposit bonuses but what they do offer is the best odds in the business the majority of the time, and they have the best odds for all 5 picks we have today.
Penguins vs Flyers Game 3 Betting Tips:
Scott: A nice bounce back game from the Flyers in game 2 to even the series.  It was nice to see them show some life after getting destroyed in the first game.
With the series tied and now in Philadelphia for the next 2 games I'll avoid picking a winner and instead go with the over.  I expect the Pens to come out swinging to regain the lead in the series and the Flyers will too after their game 2 performance.
Over 6 incl OT – 1u  
Graeme: I've honestly no idea what to expect from this game. It seems like one of those random series where the teams will just trade lopsided results – however betting on the Pens on the roads as underdogs just seems silly. The one thing I haven't really seen too much of yet in this series is great goaltending – so I'm going to do a small bet of 0.5u on Over 6 Goals incl OT/SO.
Canada: 1.98 Odds at BetOnline..
USA: Best Odds at Bovada.
Everyone Else: 1.98 Odds at BetOnline..
Jets vs Wild Game 3 Betting Tips:
Scott: The Jets have outshot the Wild 84-37 and have been the far better team leading the series 2-0
With the series now moving to Minnesota I would expect a better effort from the Wild.  But losing Suter has been a huge loss and one that I'm not sure they can get over. 
The Wild have been in this situation before but until the show me a reason not to, I'll be backing the Jets.
Jets win incl OT – 0.5 
Canada: 1.90 Odds at BetOnline..
USA: Best Odds at Bovada.
Everyone Else: 1.90 Odds at BetOnline..
Graeme: At the beginning this seemed like one where home ice would decide things. However that performance in Game 2 by the Wild was beyond dreadful. Their offense just didn't show up. Even in Game 1, it was the same. Hellebuyck has a really low save count for this series.
However I'm not going to be reactive to those two games. They went pretty much as expected in terms of the result at least. Remember the Wild finished below .500 on the road in the regular season. It's at home where they shine. The Jets might have the momentum and they could battle hard but this is where the Wild usually get it done, and I'll stick with that today. 1u on Wild to win incl OT/SO
Canada: 2.00 Odds at BetOnline..
USA: Best Odds at Bovada.
Everyone Else: 2.00 Odds at BetOnline..
Blue Jackets vs Capitals Game 2 Betting Tips:
Scott: The Caps ended the season winning 12 of 15 and now face losing two in a row at home.  I can't see that happening.  The Caps themselves said there was no pressure heading into playoffs so it's time to prove it.
The need a good effort for three periods and they will.  Their recent playoff success, or lack of, will be a huge push for them
Capitals in regulation – 1u 
Canada: 2.16 Odds at BetOnline..
USA: Best Odds at Bovada.
Everyone Else: 2.16 Odds at BetOnline..
Graeme: Caps were the better team in Game 1 I felt but they still came up with a loss as the Blue Jackets pushed hard. Caps are always hard to predict whether it's the playoffs or the regular season and this one has me conflicted. The Caps have the ability and skill and are the better team, but the Jackets showed they have a lot of fight in them. The way the Caps can get complacent means that is fairly dangerous. I'm going to play it safe with no bet on this one.
Golden Knights vs Kings Game 3 Betting Tips:
Scott:  What a low scoring series this has been.  2 games, 4 goals and the Knights are up 2-0.
The Kings get Doughty back in this game after he served his one game suspension.  He will help out this Kings team and they need it.
The series is now in Los Angeles and the Kings can't go down 3-0.  The fans at Staples center need to show up and be as enthusiastic as the Knights fans were to give the Kings a boost.
Kings win incl OT – 1u  
Canada: 1.71 Odds at BetOnline..
USA: Best Odds at Bovada.
Everyone Else: 1.71 Odds at BetOnline..
Graeme: I've been extremely impressed with the Knights thus far and it's interesting because when I talk to people about them they just keep saying "they can't keep this up". That was the same thing I heard during the regular season but hey guess what? They did. Fleury has looked solid but the Kings have had to heavily rely on Quick to keep the games tight. Honestly with Doughty back and possibly Muzzin, I'm a bit disappointed the Knights aren't bigger underdogs.
This is an absolutely massive game for the Kings and honestly while I want to bet the Knights here, I just don't think the price is worth it. I'd be backing them at 2.50 or above and I don't think they're worth the risk. No Bet.
Follow @BetNHL
BetNHL.ca » Tonights Tips »