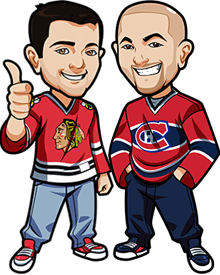 Written by Graeme & Scott on Monday, April 15th, 2019
Follow @BetNHL
Two of the strong favourites to make it to the next round of the NHL playoffs are in danger of being eliminated.
Tampa Bay lost 3-1 to the Blue Jackets and it just seems inevitable that the Blue Jackets are going to pull off a surprising sweep. Same in the Islanders/Penguins series. That was a series we thought would be a close one but that's not the case at all – after the first game, the Penguins just can't get going.
Two great games in the West as the Jets bounced back strong with a 6-3 win and the Knights got a big 6-3 win over the Sharks. From a viewing perspective, hopefully the Jets and Sharks tie those up in the next games. Binnington looks like he has lost the mojo.
Tonight three of the series are tied at 1-1 as all teams switch the venue. The only team who took full advantage of home ice was the Capitals, who won 2-0 in two tough games against the Hurricanes.
All games see both teams ranked closely odds wise which should be a fun one.
Scott: The first two games have been great and both had 4-1 finals. Game 2 was a physical one and Kadri is suspended for at least this game after he cross checked DeBrusk in the side of the head. He has a hearing scheduled for today to determine the length of his suspension but this will be his 5th suspension and I wouldnt be surprised if its a long one.
With the way this series has gone so far its tough to call a winner. I would say that if they are trading wins and with the Leafs at home I would say its their turn to win. But without their third line center and the Bruins carrying over the momentum from game 2 I'm not sure.
No Bet
Bruins vs Leafs Game 3 Betting Tips:
Graeme: There was a lot of drama coming out of Game 2 in this one. Kadri. Nylander. And of course, the refereeing which was a mess and let the game get out of hand.
The one thing that isn't being commented on enough though is that the Leafs were SCARED. The Bruins came out aggressive and the Leafs didn't look like they knew how to handle it. That was a surprise to see.
For whatever reason that shocked the Leafs, but I think they can adjust to that now. They know what to expect. If they can't then they will be unable to win the series.
1u in Leafs incl OT/SO
Canada: 1.87 Odds at Sports Interaction + free $20 bet.
USA: -115 Odds at Bovada.
Everyone Else: 1.83 Odds at Bet365 (Americans: We recommend http://www.bovada.lv.
(Odds correct as of 2019/04/15 11:14:35 AM EST but are subject to change.)
Capitals vs Hurricanes Game 3 Betting Tips:
'
Scott: The Caps are up 2-0 and haven't trailed once in the series. Game 2 needed OT so I have to wonder how that will change things for game 3 with the Canes at home.
I wanna say Caps win with confidence but I'm a little nervous with the way the Canes played in game 2. Good odds for a Caps win though and its worth the play.
Caps win incl OT/SO – 0.5u
Graeme: I just get the vibe that the story of the first two games are going to be the story for the series. The Hurricanes battle hard, but the Capitals are just able to oust them.
It's a massive, massive night for the Hurricanes to get playoff hockey in Raleigh again. Everyone will be up for it.
If I know anything about the Capitals, it's that they LOVE to piss on stuff like that.
0.5u on Capitals to win incl OT/SO
Canada: 2.10 Odds at BetOnline..
USA: +110 Odds at BetOnline..
Everyone Else: 2.10 Odds at BetOnline..
(Odds correct as of 2019/04/15 11:14:35 AM EST but are subject to change.)
Predators vs Stars Game 3 Betting Tips:
Scott: Game 2 was won by the Preds 2-1 in OT. But it could have been much worse as Nashville outshot the Stars 42-23.
With the Stars at home and having a good home record they have the edge. And with Bishop doing all he did in game 2 the Stars owe it to him to have a better game offensively.
Stars win incl OT/SO – 0.5u
Canada: 1.87 Odds at 888 Sports.
USA: -120 Odds at BetOnline..
Everyone Else: 1.87 Odds at 888 Sports.
(Odds correct as of 2019/04/15 11:14:35 AM EST but are subject to change.)
Graeme: A very interesting series. Predators are having some serious offensive struggles which is hurting them. They just can't get the puck in the net. They're lucky not to go down 2-0.
I said it a few times early on that I liked the Stars performances at home. Even though their record doesn't reflect it as much, they give maximum effort.
Despite that I've got to think things turn the way of the Preds eventually and they start getting in the goals.
I lean slightly towards Preds but it's a coinflip and No Bet.
Flames vs Avalanche Game 3 Betting Tips:
Scott: A huge win in game 2 for the Avs as they finally got one past Smith and won in OT. With the series moving to Colorado for the next two games the Avs must feel great about where they are at. Makar has had a crazy couple of days winning the Hobey Baker award, given to the best college hockey player, played in the title game of the NCAA and signed his entry level deal.
I want to say the Flames win as they were the best team in the West this season. But with the Avalanche having momentum and a hot shot rookie making his debut ill avoid a tip for this game.
No Bet
Graeme: Game 1 made everyone think Flames were taking this series but the Avs fought back hard and got the win in Game 2.
Now off to Colorado they go. And we may see Cale Makar playing which would be cool.
Calgary are the better team, and the odds reflect that. However I think going to Colorado will be a big boost for the Avs in this one and they'll be more adjusted to it and be able to perform better.
It's an intriguing game but I'm going to go with No Bet.
Follow @BetNHL
BetNHL.ca » Tonights Tips »