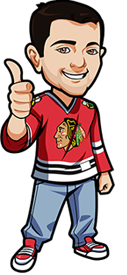 Written by Scott on Wednesday, April 15th, 2020
Follow @BetNHL
Well the NHL has extended its self quarantine period to April 30th. What that means is that they haven't ended the season yet and have given us hope that they still may be able to finish the season.
Bettman confirmed Monday that essentially all options remain on the table. He added that the league will be ready to move quickly if an opportunity to return arises. At least we have made some progress. It's baby steps but we have to walk before we can run. I read that some executives mentioned that they would be open to playing a best of 3 in the opening round, best of 5 for the 2nd and then best of 7 for the final 2 rounds. But Bettman also acknowledged Monday that even if the league gets the green light to resume the 2019-20 campaign, it will take time for players to prepare for game action.
"As much as you may try to stay in shape with a home gym, our guys haven't been on the ice for a month and they're going to need two-to-three weeks to get back into playing shape" so hes worried about rushing into things to quickly to avoid injuring players who haven't had a chance to stay in game shape.
For today we will go back to the NHL Simulations as its a blast to watch. It was great yesterday when I watched my Hawks beat the Canadiens 4-1. I got so into it which was strange to me but man I had fun. Screaming "BOOM" and "Stay Down" had my wife and kids concerned lol.
NHL Simulations Betting Tips
Sabres vs Lightning
Lets look at this realistically. The Sabres went 30-31-8 on the season . The Lightning are the Lightning who were 2nd in the Atlantic Division and the Eastern Conference with a 43-21-6 record and have really no weaknesses on their roster.
If this doesn't come through for me than so be it. You have to back the Lightning against an always struggling Sabres team in a game or real life.
Lightning -1.5 for EVEN odds at Bovada/Bodog
Blues vs Avalanche
The defending champs are a great team but on paper, the Avs look better in my opinion.
These teams were number 1 and 2 in the Central Division and the Western Conference. The Blues had 94 points after 71 games played, the Avalanche had 92 points after 70 games played.
The Avs scored more goals and allowed less goals compared to the Blues and with their records being so close I'm going to back the home team in this one.
Avalanche +105 odds at Bovada/Bodog
Follow @BetNHL
BetNHL.ca » Tonights Tips »