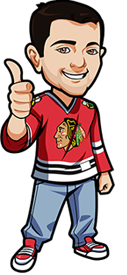 Written by Scott on Monday, April 15th, 2013
Follow @BetNHL
Just terrible what happened in Boston yesterday. It seems as though things like this are happening more frequently. I'm just at a loss for words.
Good night of betting last night. The Blackhawks game went over 5.5 and ended as I predicted with a 7 goal total and the Hawks winning for 2.10 odds. Our big win of the night came when the Flyers beat the Habs, not just beat but pounded, 7-3 for some amazing betting odds of 2.70. Our loss of the night came when the Blue Jackets beat the Avalanche in OT. That was a crazy game with Colorado going ahead 3-2 with around 3 minutes left and Columbus tied it with 1:30 left to send it to OT.
8 games on tonight. Toronto vs Washington will be a good game as will the Rangers vs Flyers. The Oilers play in their first game since handing over the GM duties to Craig MacTavish after firing Steve Tambellini. It baffles me how a team that has been rewarded with so many 1st overall draft picks for being terrible hasn't been able to have any success with all these young stars. Makes you wonder if Tambellini had drafted Tyler Seguin instead of Taylor Hall would he still have been fired?
But lets get to the tips for Tuesday April 16th
Ranger vs Flyers: Flyers To Win
Momentum is a good thing and it translates to the ice. And after the 7-3 stomping the Flyers handed the Habs last night they are riding high right now. Its almost impossible for the Flyers to make the playoffs but it could happen. And for it to happen they would need to win pretty much all their remaining games especially against teams like the Rangers who they can still catch in the standings. The Flyers are 7 points behind the Rangers with 7 games left.
At Bet365 (Americans: We recommend http://www.bovada.lv you can bet the Flyers to win for 2.20 betting odds by far some of the best you will find. For the home team who is riding some crazy momentum right now to be paying out at 2.20 seems crazy and something you should take advantage of before it changes
Maple Leafs vs Capitals: Goal Before 9:30
I really like this betting option and use it all the time. You are betting on if a goal will be scored before or after 9:30 of the first. This game features 2 teams who can score and this game will be no different. With both teams comfortably in the playoffs these games are just trying to better position themselves.
So head to B365, home of the largest number of betting options, and bet that http://www.bovada.lv betting on which team will score first. The Isles will look to sweep the season series with a win tonight. The Panthers are having a terrible season and have many of their key players out due to injury. This shouldn't be much of a challenge for New York
Go to B365 and bet that Follow @BetNHL

BetNHL.ca » Tonights Tips »