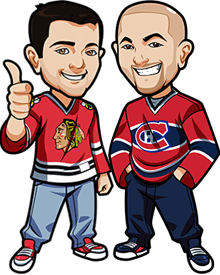 Written by Graeme & Scott on Saturday, April 16th, 2016
Follow @BetNHL
We got off to an absolutely perfect start yesterday in the NHL Playoffs, continuing our regular season form, and hopefully that continues.
In the Red Wings vs Lightning game, Scott tipped the Lightning to win and Graeme tipped Over 5 goals. It started off as a very tight affair, but the Lightning soon pulled away to win 5-2, win both bets, and go up 2-0 in the series.
In the Islanders vs Panthers game, Scott went with Panthers to win and Graeme went with Panthers in regulation. Whichever bet you took you would have won there, as the Panthers tied up the series with a big 3-1 victory.
We also both correctly predicted the Blackhawks beating the Blues and what a nail biter of a 3rd period that was.
Also it's going to be hard to see a better picture than this throughout the playoffs: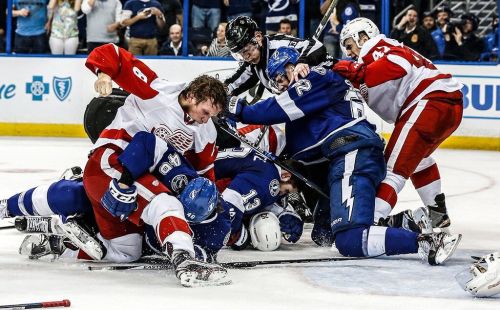 Just beautiful.
This is the perfect time to get accounts at new sportsbooks for odds comparison. Take Stars in regulation today for example – they're 1.70 at most places and even less than that, but 888 Sports (No Americans) have them at 1.80. Playoffs get a lot more action so you'll see big line changes like that. Grab an account at 888 Sports, deposit and keep an eye on the lines. Plus clear the x3 treble the winnings bet while you're at it.
Americans – a good sportsbook that has different lines often is Intertops. Give them a try.
Throughout the playoffs we'll be sure to highlight different sportsbooks. We get a small flat fee payment for any new signups so it's a way to support us in beer money for all the work we do, but more importantly it's a lot smarter for you to be betting while clearing bonuses or betting with the best odds.
Alright it's Saturday, April 16th and we've got a great day of sports with the NBA Playoffs beginning, and 4 NHL Games. Let's get to the tips:
Rangers vs Penguins Game 2 Betting Tips:
Both these tips are based on Lundqvist playing which is a game-time decision.
Graeme: The Penguins lead 1-0 after a big win over the Rangers in Game 1. However that was an interesting game because any Rangers strategy seemed to go out the window – they instead reacted to Zatkoff being in net and were just throwing shots from anywhere on the ice hoping to catch him out. We're going to see a more reserved Rangers side today. I'm taking Under 5.5 Goals.
Canada: 1.77 Odds at Pinnacle Sports.
USA: Bet at Intertops
Everyone Else: 1.77 Odds at Pinnacle Sports.
Scott: Game one was a 5-2 Penguins win. Hornqvist scored an hat trick and added an assist, Crosby had a goal and 2 assists.
Lundqvist took a stick to the face by Marc Stall and left the game after the first.   He's expected back for this one.  The Penguins had Jeff Zatkoff in goal for this game thanks to injuries to both Fleury and Murray and he was great.  But with Lundqvist back for this game he is the better goalie.
Rangers win
Canada: 2.65 Odds at Bet365 (Americans: We recommend http://www.bovada.lv.
USA: Bet at Intertops
Everyone Else: 2.65 Odds at Bet365 (Americans: We recommend http://www.bovada.lv.
Flyers vs Capitals Game 2 Betting Tips:
Graeme: The one thing that concerns me about the Capitals after Game 1 is their strategy. They're playing a much more slow and controlling type of game. With no 3 vs 3 in overtime, they can be comfortable in games going there knowing that 5 vs 5 they are the best. I see Flyers getting a lot more physical this game though to shake things up. I think though being at home anyway, we see a similar game to Game 1 and will take Capitals in Regulation.
Scott: The Caps won the first game 2-0.   The Caps played a strong defensive game which only compliments their amazing offense and should be worrying the Flyers.  They also killed off all 4 of the Flyers powerplays.  The Flyers will need to start converting with the man advantage if they want to make this a more competitive series.  After their game 1 performance I have a hard time going against Washington right now.
Capitals in regulation
Canada: 1.70 Odds at 888 Sports.
USA: Bet at Intertops
Everyone Else: 1.70 Odds at 888 Sports.
Wild vs Stars Game 2 Betting Tips:
Scott:  The Stars came out swinging in game 1 winning 4-0.  The Wild are going to need to figure out a way to get some offense going without Parise and Vanek.  And to make matters worse for the Wild, Seguin could potentially be back for this game although they didn't need him in game 1.  With the Wild now on a 5 game losing streak going back into the regular season and their injuries I don't see this going any other way.
Stars in regulation
Graeme: I picked the Stars to win in 4, and nothing from Game 1 saw me rethink that decision. The two games in Minnesota will be interesting but this early on, complacency hopefully won't be a factor. Stars in Regulation.
Canada: 1.80 Odds at 888 Sports.
USA: Bet at Intertops
Everyone Else: 1.80 Odds at 888 Sports.
Sharks vs Kings Game 2 Betting Tips:
Scott: The Sharks won game 1 4-3 and this was a great back and forth game. They are an amazing team on the road.  They're the first team in 17 years to finish the regular season  going under .500 at home. 
The Kings played a strong game too but came away with the loss.  I would like to say that they win this game but I can't pull the trigger.   The Sharks are so strong on the road.  When these teams play in the playoffs they are long series so history would suggest a Kings win.  But instead I'm going to go with there being goals
Over 5
Graeme: Game 1 was a tremendous game and so fun to watch. I could honestly see Sharks winning this one then showing up flat at home. They just looked so lively in that game and I think it's going to be hard for the Kings to stop them. I'm taking Over 5 Goals.
Canada: 1.84 Odds at Pinnacle Sports.
USA: Bet at Intertops
Everyone Else: 1.84 Odds at Pinnacle Sports.
Follow @BetNHL
BetNHL.ca » Tonights Tips »