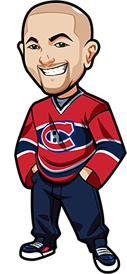 Written by Graeme on Sunday, April 16th, 2017
Follow @BetNHL
It was an incredible day yesterday in the NHL playoffs with 3 great and extremely close games and one game that – well, wasn't that close.
The Senators battled hard against the Bruins to get a win. That was an even game as expected and it took overtime to separate the two teams.
The Leafs beat the Capitals in an absolutely amazing game. The Leafs battled hard and it took double overtime to separate the two. The games in Toronto are going to be very interesting.
The Blackhawks lost 5-0 to the Predators. The Blackhawks aren't playing great but the Predators are playing incredibly well and have clearly did their homework on the Hawks.
And in our only unanimous pick, the Anaheim Ducks beat the Flames. If you didn't watch that game be sure to check out the highlights to see the game winning goal for the Ducks. Poor Calgary.
April 16th. Happy Easter everyone. Time to forego the usual beer and wings for the games and have some chocolate easter eggs instead.
Can't believe we're already onto Game 3s. The playoffs are flying by. Scott didn't have time for extensive write-ups today – he's still on vacation in Mexico and won't be back till Wednesday. FWIW he said he likes the Wild to win, Jackets to win, Habs/Rangers Over 5 and Oilers to win but hasn't had time to analyze.
Wild vs Blues Game 3 Betting Tips:
The Blues have been the biggest upset team of the playoffs with 2 wins over the Minnesota Wild on the road. Now they go home where both teams are at least 1.90 odds and at most books the Blues are slight underdogs at 1.97.
The Wild are a great team and you can't count them out. However when a team wins two on the road like that and go in the next game as underdogs at home? I think it'd be a mistake not to bet Blues to win here.
Canada: 2.10 Odds at BetOnline..
USA: +105 Odds at Bovada.
Everyone Else: 2.10 Odds at BetOnline..
Blue Jackets vs Penguins Game 3 Betting Tips:
I said before the series began that home ice would dictate this series. So I've got to stick with that for now. The Jackets had a good performance in Game 2 despite the loss. They had an excellent home record while the Penguins struggled on the road.
I'm going with Blue Jackets to win.
Canada: 1.86 Odds at 888 Sports.
USA: -105 Odds at Bovada.
Everyone Else: 1.86 Odds at 888 Sports.
Rangers vs Canadiens Game 3 Betting Tips:
This is an interesting one because the Rangers now have home ice advantage yet that's where they struggled during the regular season. It's not as bad as the media make out – I saw one site earlier wondering if the Rangers could "complete mission impossible" and win at MSG. Hey they still were above .500 at home.
These games look to be very 50/50 games. I'd give the slight edge to the Rangers so the bookies seem to have the odds right. Best I could see on the Habs was 2.10 odds and I think I'd need 2.20 to bet them. I'd probably still lean on Montreal but it's a no bet for me.
Oilers vs Sharks Game 3 Betting Tips:
The Oilers got the big W in Game 2 to tie it up. Now they come to San Jose where they won the last 2 in the regular season against them. The Sharks need their marquee players to step up – Burns, Pavelski and Couture need to show what they're made of here.
That's what's leading me to go with Sharks to win tonight. I just feel we haven't seen close to their best and we may see it here. I don't feel very good about it. It's hard to bet against McDavid however I felt the Sharks played extremely poorly in Game 2 yet only went down 2-0. I like a much better performance from them at home here and to lead the series 2-1.
Canada: 1.77 Odds at Sports Interaction + $20 Free Money Line Bet.

USA: -135 Odds at Bovada.
Everyone Else: 1.74 Odds at Bet365 (Americans: We recommend http://www.bovada.lv.
Follow @BetNHL
BetNHL.ca » Tonights Tips »