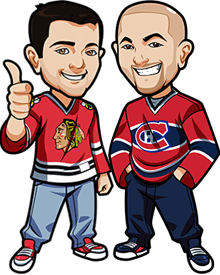 Written by Graeme & Scott on Tuesday, April 16th, 2019
Follow @BetNHL
An excellent night in the NHL playoffs last night, as all four series end up at 2-1.
The Toronto Maple Leafs – minus Kadri for the rest of the series – were able to put a dismal Game 2 behind them as they took the lead hearly in the 2nd and ended up winning 3-2. Leafs fans will be ecstatic that Auston Matthews was finally able to get a goal. Was great to see Johnsson score as well. Bruins are relying heavily on the power play which isn't enough. They need to start
The Hurricanes absolutely wiped the floor with the Capitals. A surprising 5-0 thrashing and it should have been more. Holtby pulled off 40 saves in that one. Absolutely incredible performance from the Hurricanes.
Rinne had to be at his best and he was as the Preds beat the Stars 3-2. He was the hero of that game. And a big surprise in Colorado as the Calgary Flames got drubbed 6-2. It was another massive home performance as Smith had to pull off 50 saves.
Some great Game 3s and it's always awesome seeing the home team step up.
Tonight we've got four games on the board and we could see the end of two series, as the Tampa Bay Lightning and Pittsburgh Penguins try not to be swept.
Lightning vs Blue Jackets Game 4 Betting Tips:
Scott: Well here we are. The best team by a wide margin during the regular season against a team who up until the trade deadline were going to move two of their best players and start a rebuild. And the team who wasn't sure what to do now has the best team up against the ropes.
I have nothing to say about this game. The Jackets have been incredible.
Graeme: Just like Game 3, the sportsbooks are giving the Blue Jackets no respect. It's like the last three games didn't happen.
But they did happen. And unless you saw something magical in that last game, there's just no way you can bet Tampa. If you have solid reasons for betting Tampa or believe the return of Hedman (who is doubtful) will change things then fine.
Personally if I was looking to back Tampa, I'd back them for the series instead. Much better odds. And I'd back it at somewhere like Bet365 (Americans: We recommend http://www.bovada.lv which has the early cashout option. And I'd bet it with the expectation that if they take this game, the momentum shifts and they win Game 5. Then I'd be considering a cashout.
But I think betting Tampa to win tonight, after the last 3 games, at that price, is one of the dumbest bets you could make. They've just not shown anything since the first period of Game 1 that they what it takes. They did up their game slightly in Game 3 but it wasn't close to enough.
Honestly – I hope they do win. I hope they come back and win the series. Not only would that be an awesome story, but I'd much prefer to see Tampa in future rounds as opposed to the Jackets. But after the first three games, and the odds, I've gotta bet 0.5u on Jackets to win incl OT. Quick note that when I wrote this up this morning, 2.25 was everywhere. It's dropped to 2.20 at a lot of places now and I don't know if I'm a big fan of that so it's your call.
Canada: 2.25 Odds at Sports Interaction + free $20 bet.
USA: +115 Odds at Bovada.
Everyone Else: 2.20 Odds at Bet365 (Americans: We recommend http://www.bovada.lv.
(Odds correct as of 2019/04/16 11:28:45 AM EST but are subject to change.)
Islanders vs Penguins Game 4 Betting Tips:
Scott: Another series where a team has a stranglehold. The Isles weren't supposed to be here after trading away Tavares. But they now have the Pens on the edge.
I cant back anything for this game. Sure the Pens still have Crosby, Malkin and the others but that hasnt seemed to help them at all.
No Bet
Graeme: Who would think that Game 4 would be the possible end of the Pittsburgh Penguins this year? Things just haven't went their way. The biggest thing is the fact that they can't hold a lead, and are also struggling offensively.
Personally I think the Penguins take this one. Not that they're "too good to get swept" or any nonsense like that but you just see the advanced metrics going more and more in their favour. And you think somethings gotta give.
But that Islanders price is too sweet to ignore. Penguins were in this spot multiple times in the regular season and didn't bring it. 0.5u on Islanders to win incl OT/SO.
Canada: 2.50 Odds at BetOnline..
USA: +150 Odds at BetOnline..
Everyone Else: 2.50 Odds at BetOnline..
(Odds correct as of 2019/04/16 11:28:45 AM EST but are subject to change.)
And unlike the Tampa one – I wouldn't advise a series bet on the Penguins if you think they'll win. I think they lack the consistency.
Jets vs Blues Game 4 Betting Tips:
Scott: The Jets had their best game so far of the playoffs in game 3 when they won 6-3. If they can carry that over is anyones guess. They haven't been able to put together consecutive performances like that for a while.
The games have been won by the road team in all 3 games. This has the potential to go the distance so I can see a Jets win as they build off of their last game and good odds for that too
Jets win incl OT/SO – 0.5u
Canada: 2.33 Odds at BetOnline..
USA: +130 Odds at BetOnline..
Everyone Else: 2.33 Odds at BetOnline..
(Odds correct as of 2019/04/16 11:28:45 AM EST but are subject to change.)
Graeme: It was good to see the Jets get a key win and bounce back in the series. The big factor is Binnington – he struggled hard in that game and wasn't the Binnington of Game 1. He's been regresisng as the playoffs began.
Looking through the regular season and focusing just on that – he had a shutout against the Preds, then .850 against Stars, .850 against Ducks then .905 against Coyotes before a .976 against the Penguins. There was also the period where he shutout Tampa, .935 against Preds, .870 against Devils then shutout the Coyotes.
So there's a chance that we see him turning it on again. There's nowhere near enough sample data to say for sure but it's good to see him bounce back although he hasn't been lit up like he was in Game 3.
As for the Jets in the second half of the season – they generally did a good job of bouncing off a few losses and stringing some wins together.
It's very close to a play on the Jets for me, but just a bit too close. No Bet.
Sharks vs Knights Game 4 Betting Tips:
Scott: The Knights scored early in each period which makes them just the 2nd team in NHL history to score a goal in the first minute of each period in the playoffs.
The 2nd line has been incredible too. Stastny, Pacioretty and Stone have been carrying the offense so far. Stastny has 6 points, Pacioretty has 8 points and Stone has 8 points including 6 goals.
The Sharks are without Vlasic whos injured, Thornton who is suspended and forward Michael Haley who was injured in game 3.
With the way the Knights get off to great starts its hard to back the Sharks in this game with it being in Vegas. The odds aren't very good for Knights win so it would need to be at least in regulation to get the odds up to where we need them. I have a feeling this series is due for a close game so I'll avoid a tip
No Bet
Graeme: Really thought they'd adjust this line to 7. But they didn't. So it's a play. 0.5u on Over 6.5 Goals incl OT.
Canada: 2.00 Odds at Bet365 (Americans: We recommend http://www.bovada.lv.
USA: -105 Odds at BetOnline..
Everyone Else: 2.00 Odds at Bet365 (Americans: We recommend http://www.bovada.lv.
(Odds correct as of 2019/04/16 11:28:45 AM EST but are subject to change.)
Follow @BetNHL
BetNHL.ca » Tonights Tips »