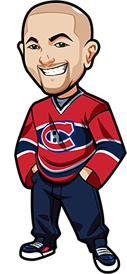 Written by Graeme on Thursday, April 16th, 2020
Follow @BetNHL
Welcome to April 16th, 2020 as we continue to stumble and scrape around looking for whatever the hell we can gamble on to keep things going here.
Seems to be a slight issue with our mailing list the past few days where things have been coming out a day late. I've tried to amend that going forward so you don't miss out on our video game betting tips posts.
It was just confirmed that the PGA will be returning in June, with no fans. So that's good news at least. For those unaware I'm big into golf betting and am really looking forward to that being back.
One year ago today, the Jackets blew Tampa away 7-3 to sweep them. What an amazing time in hockey that was.
PDC Home Tour 2020 Betting Tips:
This is darts. I'm actually a big fan of darts. Used to run a darts betting tips website back in the day (DartsBettingTips.com – it's still online although I haven't updated it since 2014.
There's games taking place on Friday between Peter Wright, Peter Jacques, Jamie Lewis and Niels Zonneveld.
I've got to fancy Jamie Lewis in matches that don't involve Peter Wright.
He's been struggling but the home tour is a unique situation and the pressure should be off him.
Looking at the two match-ups; one is before the match-up against Wright, one is after. So assuming no pressure, I think it will pay dividends the most in the first match.
Take Jamie Lewis to beat Zonneveled at 1.83 odds
I also like Jacques to beat Zonneveld think there is value there but I'll stick with the Lewis theory.
Madden 20 Sims Betting Tips:
I'm going to take Under 65.5 Points in Saints vs Falcons. I've been running simulations according to the rules set by the sportsbook for these ones. The Saints covered in 10 of my simulations 70% of the time and mostly by a touchdown which was impressive.
Saints offense lit it up most games and the biggest question was whether the Falcons could keep up with them or not. Most times they couldn't. Even when they did, the games rarely went over. Only 1 of the games actually went over the 65.5 point mark.
Will see how the sims go. Very excited about the darts being on to be honest. The more real sports the better.
Just wish they would run more beer pong!
Follow @BetNHL
BetNHL.ca » Tonights Tips »