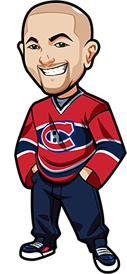 Written by Graeme on Friday, April 16th, 2021
Follow @BetNHL
Well Scott got to learn the hard way as to why I have sworn off overs for the rest of the season.
I looked through that Flyers/Penguins game yesterday at his request and much like the last few overs I have tipped that have went awry – I told him it checked all the boxes to make it a worthwhile play.
Unfortunately that has been the case quite a few times before and are the sole reason we still have a slight losing record for the season. I've dived into them retroactively to see if I can figure out an edge but I really can't – in this bizarro season I've decided to just stay the hell away from them.
Shortly after posting the tips, Matthews was declared out for the Leafs so I updated in the comments stating not to take that one. Leafs got absolutely blasted last night.
Speaking of – some great discussion in the comments lately. Keep it up guys – love reading it. Someone asked about a "lock" the other day – of which there is practically no such thing in hockey betting – and Western Rattlers used the Caps +1.5 as an example of a perceived lock, but why it actually wasn't.
That ended up being a great example as the Caps got rattled 5-2. I mean prior to that game, Caps +2.5 would have probably seemed like the "lock of all locks" yet that wouldn't have came in either.
Honestly as someone who has bet hockey and sports for three decades now – it always bothers me when I see people speak with a lot of confidence in regard to a pick. We try never to do that and always provide our reasoning for it. We will always try and be open about that.
There will be some picks that we are certainly more confident about than others but at the end of the day we're just going with what we have; from all the sports I've covered the one thing I can confidently say is hockey has the most variance of any sport.
BTW Jets are about 6.00 to win the North. That's a heck of a price.
With that let's get on to todays tips and see what "lock of the century 50 dime plays" we can find for tonight.
Canadiens vs Flames:
The Habs are pretty decent favourites going into this one despite being rocked by the Flames in the last game 4-1. Montreal only have 4 regulation wins in their last 15 games. Results wise, Flames have beat them in 4 of the 5 outings this season.
Flames seem like they are peaking. I was impressed that they were able to beat the Habs on the 2nd leg of a back to back. Looking at the advanced metrics – the results have been deserved whether it is Corsi, Fenwick, xG etc.
I just see absolutely no reason not to take the Flames tonight as dogs. Even when you look at both teams overall advanced metrics for the season – Flames are slightly better on offense although Canadiens are better on the defensive front.
I would NOT bet this at 2.10 or below.
Flames incl OT/SO
Canada: 2.20 Odds at Casumo
USA: +116 Odds at BetOnline..
Everyone Else: 2.20 Odds at Casumo
(Odds correct as of 2021/04/16 10:24:55 AM EST but are subject to change.)
Bruins vs Islanders:
Back to back head to head no thanks.
Wild vs Sharks:
Wild are that team I just find hard to back with any sort of real confidence to get the job done. Even when they do win in regulation, most of the wins are super tight. Sharks won the last two. I think they will get the job done but I just don't have enough confidence to back them.
Avs vs Kings:
If Avs would have to be Avs -1.5. Looking just at their results over the last few weeks it's slightly better than 50% chance they cover that if they win. If we look at the Kings losses, it's more than 60% chance they lose that spread.
An empty net can be a factor in that. Kings with an empty net concede 36% of the time which is the 5th worst rate. Avs score 20% of the time against an empty net which is top half stat. All that looks good for Avs -1.5.
What about matchups between the two? Advanced metric wise, Avs have only had one super dominate game (March 12th). They still have generally been better going through the other games.
Alas there is one big glaring question – Devan Dubnyk. He has not been at his best this season and we saw him concede 3 against the Blues. That's just enough to keep me off this one sadly.
Ducks vs Knights:
Good to see some consistency from the Knights. Would have to be -1.5 and I don't have the confidence in them for that. Ducks have rode them hard this season. No bet.
Follow @BetNHL
BetNHL.ca » Tonights Tips »