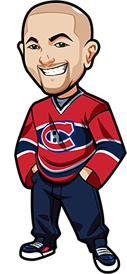 Written by Graeme on Saturday, April 16th, 2022
Follow @BetNHL
Hi guys,
No tips yesterday. The play I did like the most and mentioned was the Islanders in Regulation. I must admit once Carey Price was confirmed in that one, I decided not to make that bet.
Sorokin ended up being the star in that one. The Habs wanted a win so badly there. That was tough to see. It was a playoff level performance from Sorokin who stopped the Habs, who had a 3.12 xG.
Bit late today with the tips so I'll skip Bruins vs Penguins, Rangers vs Red Wings and Predators vs Blackhawks. My wife is sick at the moment and spent most of the night coughing and keeping me up. I started working on these earlier in the morning, then thought I needed a "quick power nap" to fully focus – and well three hours later here we are.
Wanted to be wide awake for a great day of sports with the NBA Playoffs all kicking off today. Betting wise I'm going to be blindly following Vin who absolutely crushed the NBA during the regular season with a 102-70 record, and has futures and daily bets up on Patreon. Well worth the $11US a month!
Blues vs Wild:
Blues come in on a tremendous run. These two just played over a week ago and the Blues defeated them in a tight one.
This is the type of game that could easily go to OT and is going to be tight. The bookies have it as a coinflip and that seems to be right on the money. I'm not seeing value in either side here. My gut says Blues actually win it kind of convincingly but it's tough to go with that based on the last game, and so many Wild games going to OT.
Unfortunately the Kambi sportsbooks have all upgrades and don't offer draw no bet either otherwise I'd maybe look to tap that on the Blues.
Anyway I do like the Blues to win this one convincingly but there's not enough to back it especially with how close the last game was.
Oilers vs Knights:
Oilers come in a bit all over the place. They've had some tough opposition down the stretch and now they are playing the Knights who are bipolar at the moment. Feel like Oilers get the victory but man after the way the Knights blasted the Flames I'm wary of them.
Senators vs Leafs:
Leafs are fairly heavy favourites here but this is a bit of a tricky one. Battle of Ontario so Leafs will be up for it. Leafs also have had quite a few off performances lately. Some of them they have still managed to win of course.
Last time these two met was on January 1st when Leafs thumped them 6-0.
I'd have to bet the Leafs -1.5 and I am not a fan of those bets. Especially with the Sens stringing together some wins and they will be competitive tonight. I'm a bit surprised at seeing the over 6.5 I thought we'd see the over 7 here.
Sens have actually been fairly good at goalscoring lately too. The last three Battle of Ontarios have went under 6.5 so maybe that's why the line is like that. But I think there is enough to back the over here. It's always crazy looking at the metrics as xGA wise the Leafs are one of the top teams so you're basically relying on their goaltenders to have a bad night. Which ya know – happens a tad more than is standard. And that Matthews fella? He does seem to have an eye for a goal.
Over 6.5 Goals incl OT/SO
Ontario: 1.86 Odds at Sports Interaction (SIA) - Non-Ontario bet $10 get $200
Rest of Canada: 1.86 Odds at Sports Interaction (SIA) - Non-Ontario bet $10 get $200
USA: -115 Odds at Bovada
Everyone Else: 1.85 Odds at Bet365 (Americans: We recommend http://www.bovada.lv
(Odds correct as of 2022/04/16 1:34:02 PM EST but are subject to change.)
Sabres vs Flyers:
The trainwreck known as the Philadelphia Flyers visit Buffalo today.
Buffalo have had some impressive results over the last couple of weeks. They seem to be competitive at least. Yeah they're 1-4-0 in their last 5 but I mean you got tough bloody teams in there.
The OT/SO odds are a bit iffy. Certainly playable. But the way both teams are going right now, I feel like Buffalo can win outright. Flyers look like they are missing quite a few key players. Buffalo having Owen Power is nice as that will fire them up too.
Happy to gamble a little bit more with Sabres in Regulation.
Ontario: 2.20 Odds at Bet365 (Americans: We recommend http://www.bovada.lv
Rest of Canada: 2.20 Odds at Bet365 (Americans: We recommend http://www.bovada.lv
USA: +100 Odds at BetOnline.
Everyone Else: 2.20 Odds at Bet365 (Americans: We recommend http://www.bovada.lv
(Odds correct as of 2022/04/16 1:34:02 PM EST but are subject to change.)
Canadiens vs Capitals:
Caps likely win but has to be -1.5 on the road. You just never know with that team right now either they just don't seem to care. If this was Price's debut I'd probably go with Caps -4.5 as you know those bastards would take pleasure in a thumping there ha.
Lightning vs Jets:
Don't bet the Jets and right now I don't bet Tampa either. If you were to take Tampa it'd have to be -1.5. You're betting that on previous achievements, not current performances. They probably do it but then bizarro Winnipeg may show up.
Stars vs Sharks:
I mean Stars likely win here but Sharks did ride them hard a couple of weeks ago. Would have to take Stars in regulation and it's a low price. Just not enough value on it.
Avalanche vs Hurricanes:
In theory this is a massive game. In practise? I don't know. Canes come stumbling in after that loss to the Wings. Avs are motoring on.
A lot of people are expecting a nice playoff atmosphere for this one but I could see it being a very tight affair.
I rarely back unders on here and with the firepower on display here I can't bring myself to do it. But it won't surprise me if this is a quiet game.
Kraken vs Devils:
Coinflip odds which seem accurate. Kraken feel like they want it more at this stage of the season so think they probably pick up the W.
Flames vs Coyotes:
Flames you'd expect come out flying after that loss to the Knights. They beat the Coyotes 4-2 here back in March.
Arizona come in playing just TERRIBLE.
I'd have to take like Flames -2.5 for any value and I'm not going to do that. Here's a speculative bet I'll suggest and it's one I am going to back – Flames -1.5 for the 1st period meaning they have to win by two at least. It's 3.65 odds. They are a good first period team, will come out flying I think and don't believe Coyotes can keep up.
LA Kings vs Blue Jackets:
Nothing for this one. Don't hate the value on the Jackets here and the Kings aren't really a powerhouse but just feels like one of those games the Kings squeak 3-2.
Follow @BetNHL
BetNHL.ca » Tonights Tips »