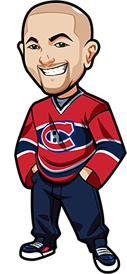 Written by Graeme on Wednesday, April 17th, 2013
Follow @BetNHL
Hi guys,
Graeme back with the tips. Had a nasty couple of days with that Influenza B. I can only assume the same flu bug hit the Habs camp because man, what the hell happened to them the last couple of games? I watched the Habs/Leafs game camped out in bed with a high fever, and I swore I was hallucinating. Unreal.
Scott did great in my absence, and he rocked up yet another winning night as we went 2-1 last night. I believe we're up about 35 units for the season now. April in particular has been incredible.
Just a reminder that we're still hoping to do live in-play betting. We may hold off on the playoffs for that, however to prepare for that please do the following:
And that's basically it – wait for the announcement here that we will be doing live in-play betting tips hopefully in the near future. I'm hoping we can do a couple of dry runs prior to the playoffs. How it will work is simple – we'll provide tips during the games and you go and bet on them and win money!
Alright let's get on with the NHL Betting Tips for April 17th, 2013….quiet night tonight with just 4 games on the board.
Flames vs Red Wings Betting Tips: Goal before 9:30
This bet is available online at Bet365.
I like the Red Wings to win here, but the odds are too short at 1.62. Especially considering the Flames have destroyed Detroit 4-1 and 5-2 in both previous games.
However both games between these two teams started off hot with high scoring first periods, and numerous goals within the first 10 minutes. Everything looks the same here – I like this one to start nice and early with goals and we're currently getting 1.75 at Bet365 on that.
Bruins vs Sabres Betting Tips: Bruins -1.5
I'm not one for profiting off tragedy – but after what happened during the Boston Marathon, how do you think the Bruins are going to react? They need to win this game more than ever. Not just for the Stanley Cup but for the people in Boston. This is going to be the most focused team they can be tonight.
Even as a Habs fan, I'm hoping for a great feel-good win for the Boston Bruins. 2.25 odds on the handicap.
Blue Jackets vs Ducks Betting Tips: Under 5 Goals
2.00 odds at Bet365 on Under 5. Both these teams match up well defensively against each other, and are usually tight afairs. Bobrovsky is on fire at the moment for the Jackets as well, and barely conceding goals. The Ducks aren't doing too well at the moment and are not scoring too many. This'll be a tight game.
Follow @BetNHL
BetNHL.ca » Tonights Tips » April 17th, 2013 NHL Betting Tips