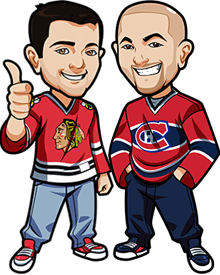 Written by Graeme & Scott on Sunday, April 17th, 2016
Follow @BetNHL
Whew – Graeme here, and as a Glasgow Rangers fan I'm finding it rather hard to write the tips today as I am just buzzing! What a fucking result. Going to have a lot of celebratory beers today. Have a bottle of buckfast on ice just for this occasion!
We continued our winning run yesterday on the hockey. We went 2-1 with our consensus picks of Capitals & Stars in regulation, losing with the Sharks/Kings over as the Kings struggled big time.
We had different picks on the Rangers vs Penguins game and Scott got that one right to go 1-1 for +0.65 units profit there.
Hopefully our run continues today. The most interesting games of course will be the Game 3s and things are going to be a lot trickier from here on out.
Just have to quickly post this: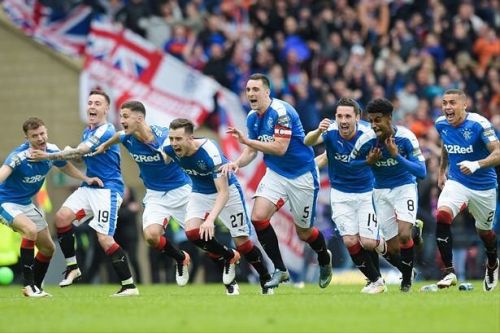 WATP!
Alright on with the tips:
Blues vs Blackhawks Betting Tips:
Scott: Game 2 was crazy.  The Hawks won 3-2 but there was plenty of drama.  A Blues goal was overturned thanks to a challenge by coach Quenneville where it was ruled offside.  A Hawks goal was challenged but it stood.   The Blues scored with 2 seconds left but that was it.  The Hawks are going to be hit and often by the Blues.  They will just need to absorb all of these like they did in the last game and they will find a way to come through.  They are at home and the crazy fans will give them momentum in this game which will only increase what the gained in their last victory
Blackhawks win
Graeme: There has been two fascinating games so far. Now they go to Chicago where the Blackhawks are the stingiest team in the league at giving up goals. It's going to be a very tight one and I think it's going to be very close however I think the odds JUST give some value to the Blackhawks. Blackhawks to win.
Canada: 1.68 Odds at Pinnacle Sports.
USA: 50% to $250 Bonus at Bovada.
Everyone Else: 1.68 Odds at Pinnacle Sports.
Lightning vs Red Wings Betting Tips:
Scott: A crazy finish to game 2 with a huge brawl and 14 penalties but the Lightning won 5-2 and hold a 2-0 series lead. With all of the emotions of game 2 and the fact that the Wings are at home I can see them getting their offense going in this one.  Plus Zetterberg and Datsyuk have 0 points in the series so they are do to show up
Over 5
Graeme: 2-0 down, the Red Wings REALLY need a win here. However the Lightning have shown a great ability to score and you have to expect all of the brawls and so on to continue onto this game. Over 5.
Canada: 1.83 Odds at Bet365.
USA: 50% to $250 Bonus at Bovada.
Everyone Else: 1.83 Odds at Bet365.
Panthers vs Islanders Betting Tips:
Scott:  Game 1 was a high scoring one but game 2 saw Luongo hold down the fort with 41 saves and they won 3-1 to even the series at 1.  The Panthers will be aiming to get their home ice advantage back in this one.  This will be the first playoff action in the Isles new home.  I can see this game going back to a goal scoring fest like game 1
Over 5
Graeme: Islanders are an incredibly strong offensive team at home and Florida are pretty damn good at scoring on the road themselves. I think one thing we've seen from both these teams is a willingness to win and throw everything at the opposition. Panthers look like they can score at will, while the Islanders will be up for this game in their new home. Over 5 goals.
Canada: 1.77 Odds at Pinnacle Sports.
USA: 50% to $250 Bonus at Bovada.
Everyone Else: 1.77 Odds at Pinnacle Sports.
Predators vs Ducks Betting Tips:
Scott: The Preds went goal for goal with the Ducks in game 1 and held on for the 3-2 win and lead the series 1-0.  The Ducks are a great team and can't afford to go back to Nashville down 2-0.  I see them coming out in this game with a convincing win to tie the series.
Ducks in regulation 
Canada: 2.09 Odds at Pinnacle Sports.
USA: 50% to $250 Bonus at Bovada.
Everyone Else: 2.09 Odds at Pinnacle Sports.
Graeme: I was very impressed with the Predators performance against the Ducks. The Ducks need to up their game but even if they do, Nashville is going to match them. I do think the Ducks will win – but I still remember the Ducks performances at the beginning of the season and honestly the more I think about this game the more I think about those and I just feel there's enough value in Predators to win based on the odds.
Canada: 2.60 Odds at Sports Interaction Plus $20 Free Bet.
USA: 50% to $250 Bonus at Bovada.
Everyone Else: 2.45 Odds at Bet365.
Follow @BetNHL
BetNHL.ca » Tonights Tips » April 17th, 2016 NHL Betting Tips