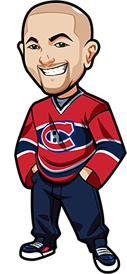 Written by Graeme on Saturday, April 17th, 2021
Follow @BetNHL
First a quick heads up tht I'm going to be staying up for UFC and the Askren vs Paul fight tonight. I don't normally stay up that late so chances are tips will be a bit late tomorrow.
Much like today – although I did say last week or the week before that due to my schedule, Saturdays will usually see the tips posted post-Matinee games.
Lost with the Flames last night. They were the better team but Canadiens got the win, with Allen playing a big part there. That's how it works sometimes.
After all my analysis on that Avs game and looking forward to it – it got postponed. That was a pisser.
Wild got the job done but it got a bit dicey. Knights were able to cover the -1.5. Bruins cleaned the Islanders clocks.
Couple of games already underway of course. Let's go through the rest:
Sabres vs Penguins:
Sabres are a feisty little bunch since they ended their long run without a win. Matchup wise though Penguins have owned them. I can't waitha ny good faith back Buffalo here – especially with the way the Penguins are playing right now – but this is one where I wouldn't be shocked if Sabres got the W. You know I don't back them but the over here is certainly tempting. If you look at the advanced metrics between the two though, the Penguins are extremely dominant in most of them and based on them Pens -1.5 would be an easy enough play. No bet here.
Canadiens vs Senators:
Senators are always a tough matchup for the Habs. Sens on rest while Habs on a B2B? Much like the above game – I just don't have enough faith in Ottawa but man would not surprise me if they pull it off.
Coyotes vs Blues:
Coyotes come off a very long and rather brutal road trip and finally return home here. Blues are just an odd team at the moment when you look at their results the past few weeks. They have really struggled on the road lately although I mean it was the Avs, Wild and Knights.
These two had that 60 game series back in February.
This seems like a MASSIVE game based on the way both camps are talking and of course the playoff race. Feels like one of those games with playoff vibes where the over comes good. At their price slight lean on Coyotes but I'll probably throw something on the over myself and hope it lives up to the hype.
Lightning vs Panthers:
Games between these two can seemingly go either way. Lightning had to pull off two comebacks last time. Yet again it's a game where I feel the underdog has value.
The big issue really is when Vas is in net you have to be at your best defensively because he's not going to give a ton up. He's likely to be in net tonight so it's hard to bet against him but he isn't confirmed yet so just in case:
Panthers win incl OT/SO IF Vas isn't in net
For the record he wasn't on the ice today so that's an indicator he is playing.
I mean I don't hate the bet even if he is in net. Panthers were able to beat him before on February 11th when they won 5-2. But it's one of those where if he is in net I still like the play just by the math – but not enough to actually advise it.
Canada: 2.40 Odds at Bet365 (Americans: We recommend http://www.bovada.lv.
USA: +140 Odds at BetOnline..
Everyone Else: 2.40 Odds at Bet365 (Americans: We recommend http://www.bovada.lv.
(Odds correct as of 2021/04/17 2:22:00 PM EST but are subject to change.)
Red Wings vs Blackhawks:
Red Wings just thumped the Hawks 4-1 yet are dogs here. Such is hockey. It's funny as theoretically Blackhawks have a slim chance of making the playoffs so have soemthing to play for. So you'd think that would be reason to back them.
EXCEPT I swear to god the Hawks the last few years I've seen them in this spot before. I mean we just saw it in the last game. They string together a few wins, increase their chances of the playoffs and then blow it. Then string together a few wins again then blow it.
Add Wings to the potential dogs tonight I just feel a bit wary of advising.
Jets vs Oilers:
Jets come in on fire with a lot of great results lately. Oilers come in after getting their ass handed to them 5-0 by the Flames. Matchup wise, Oilers have got the better of the Jets this season by the results.
Oilers come in nice and rested after a week off. They'll be sitting on that Flames result and fired up here. Last time they had a rest like this which was very recently they had that game with the Leafs that was 3-3 and went to OT. Advanced metrics wise they realy struggled in that one with their joint 2nd lowest CF of the season, lowest ever FF, lowest ever xG.
As an example – Leafs xGA for that game was 0.93. Their 2nd lowest? 1.16. That's a big jump. Their average xGA for the season is 2.32. Oilers average xGF/60 is 2.74.
So um yeah based just on the metrics after the last Oilers break stay the hell away.
I do value rest this season though and fatigue and with the Jets on a B2B – no bet.
Wild vs Sharks:
Back to back head to head. No bet.
Stars vs Blue Jackets:
Back to back head to head. No bet.
---
So um sorry – I don't have any official bets tonight. Except that Panthers one but I doubt Vas is gonna sit out here. Sucks spending so much time analyzing the games, looking at the data etc, writing all the above up and then having nothing. Oh well. Hope you guys appreciate the insight into these games anyway.
I did mention a few leans. If I was to put them in order I like them it would be:
1: Coyotes/Blues Over 5.5
2: Panthers win even if Vas is in
3: Senators win
Looking at the Penguins/Sabres matchups I just can't add Buffalo to that list.
Follow @BetNHL
BetNHL.ca » Tonights Tips »