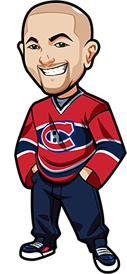 Written by Graeme on Sunday, April 17th, 2022
Follow @BetNHL
Boom! A 2-0 night yesterday.
Had the Leafs vs Sens one to go over and that one was done and dusted by the end of the 2nd period which was nice.
The Sabres vs Flyers game was a tad more of a sweat! If you had told me a few days ago I'd be spending my Saturday night, while AEW and NBA playoffs are on, glued to the Sabres vs Flyers game? I would have called you crazy. Instead I couldn't tear my eyes off it as the Sabres made a massive comeback to get his a nice win.
It was the day for the favourites with all the favourites winning. Quite crazy that at this stage of the season honestly.
I was so glad the Blues blew it in regulatin as that was one I was really tempted on.
I'm a tad busy today so writeups will be short. And there's no betting tips anyway so I won't even bother sending out an e-mail. I do feel there has to be value on those Islanders but it's a bit too much in the "gamble" territory as opposed to the "calculated risk" territory for me to advise.
Red Wings vs Panthers
Man this just seems like one of those silly games where the Panthers struggle and we potentially see an upset. There really shouldn't be one. I mean Panthers are fresh and Wings on a B2B. Not doing -1.5 on the road and the total of 7 is too high for my blood. I'll probably chuck something on the Red Wings and hope Jesus pulls off a miracle.
Flyers vs Sabres
Yeah no thanks.
Wild vs Sharks
I'd think Wild get the win here. It would have to be the handicap. Looking back at both teams results – eh. When Wild win in regulation yeah they cover the handicap. Problem is they don't win in regulation a lot. On a B2B. Bleh.
Predators vs Blues
Don't bet the Preds. Not sure what to think of this game maybe one where you risk the OT bet.
Leafs vs Islanders
Like I've said the Islanders are one of the only teams I look to back during this point of the season.
Unfortunately I don't have that confidence on them on the road. They've also been inconsistent as of late.
Varlamov is out too but Sorokin was in beast mode against the Habs.
Leafs are a team it is too hard to bet against as they can score a billion goals in a second it seems. With Leafs on a B2B I do see value here though and it is a solid value bet. I have no official tips today but if you're looking for action, I'd risk the Islanders.
Ducks vs Jackets
Not enough value on the Jackets on the road here.
Follow @BetNHL
BetNHL.ca » Tonights Tips »