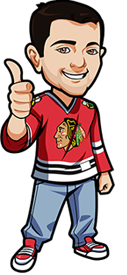 Written by Scott on Wednesday, April 17th, 2013
Follow @BetNHL
Well Buffalo ruined Bostons chances of bringing some much needed good news to the city winning in a shootout. But with the point Boston is now in second in the East and I don't think any team in the league wants to have to face them in the first round. Pittsburgh beat Montreal in a goal fest winning 6-4. All in all in was a decent night of hockey.
Well after last nights games we now have a potential first round matchup that all of Canada and fans of the NHL worldwide will be super excited to watch; Montreal vs Toronto. 2 original 6 teams, the longest and biggest rivalry in the NHL and a battle of 2 of the most successful teams in NHL history. This would be an amazing series. But there is still lots of hockey left to be played and anything can happen.
After a relatively slow night of hockey we a treated to a jam packed evening with 10 games on. With so little time left in the season each and every game becomes exciting and also very crucial in determining who makes the playoffs and who plays who. A couple worth mentioning; Islanders vs Leafs are always good games. Capitals vs Sens promises to be an exciting matchup
Here's the tips for Thursday April 18th
Capitals vs Sens: Capitals To Win
This is the 2nd of 3 meetings between these 2 clubs with Ottawa winning the first game on January 29th 3-2. Ovechkin is just dominating the league right now and may have passed Sidney Crosby in the MVP race. And with the Senators still missing both Spezza and Karlsson this won't be an easy task for the Sens.
I think that Ovechkin and the Capitals incredible play as of late will carry over into this game and that the Capitals will win. And with 1.95 Betting Odds At Bodog for a Capitals win, this is a bet worth making.
Lightning vs Canadiens: Canadiens Will Score First
Wow the Habs are going through a rough patch and at the worst possible time. They are currently on a 3 game losing streak and things don't get any easier when the unpredictable Bolts come into town. The Habs waited until half way through the 2nd period to score their first goal last night and by that point they were already down 4-1.
I think the Canadiens won't let that happen again tonight and they will get on the board first. I hope they win this game but I'm am suggesting that you bet that the Canadiens Will Score First at Bodog for 2.00 Betting Odds
Grand Salami 54.5: Under
The Grand Salami is a number and your goal is to bet on if the total amount of goals by all teams involved in the night will be Over or Under that number. Tonights number is 54.5 and after looking at the games being played I don't see a lot of them being high scoring games.
A couple games have the potential to be high scoring but I think that by the end of the night the combined goals scored will be under 54.5. If you agree then head to Bodog And Bet The Grand Salami Under
Follow @BetNHL
BetNHL.ca » Tonights Tips »