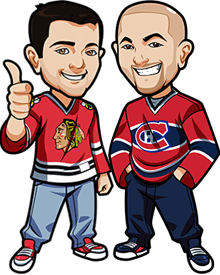 Written by Graeme & Scott on Saturday, April 18th, 2015
Follow @BetNHL
It was a great night of hockey, and a great night of betting tips.
Depending on how you followed us yesterday – our consensus picks went 3-0, Scott went 3-1 and Graeme went 4-0. The highlight of the picks was the Canucks -1.5, which was a 3.00 odds pick.
We do this for free, and we'll continue to do it for free for years to come. If you want to help us out, and thank us for the work we do please do us a favour – sign up at either Sports Interaction or if you are an American, Bovada.
Both sportsbooks give us a small cash payment for every real money player we bring in. It's not much; but if it pays for our beer and wings(of which there is a lot) during the playoffs, then it's all worth it.
It's also really smart for you guys to sign up at those books anyway. First and foremost; you can line shop. You may get 2.00 odds on a pick at one book, but then Sports Interaction or Bovada could offer 2.10 odds. While it may not seem like much – if you bet $100 a game, then 10 winning bets with those odds = an extra $100. Of course it goes the other way too – sometimes their odds will be worse, in which case you bet at a different sportsbook.
Each individual bet may not seem like THAT much of a difference – but it can be a huge difference maker. Take December 2014 for example; by choosing the widely available lines, our official stats have us at -2.5 units. However when we bet we actually line shop, and we ended up at +1.92 units for December. Just by having multiple sportsbook accounts, it turned a losing month into a winning month.
It's not just the better lines either; it's the bonuses and rewards. Deposit $125 at Sports Interaction for example and they'll immediately DOUBLE your money, giving you $250 total to bet with. Plus if you're Canadian an additional $20 free bet. Then they'll do reload bonuses throughout the season to retain you, as well as offering mobile betting, crazy parlays and prop bets, and a whole lot of other fun NHL related action.
And if you're American, Bovada offer a 50% free bet match on your first deposit, then do a ton of other promos too. For example $10 free at their mobile casino, that sort of thing.
And yeah all the sportsbook bonuses come with wagering requirements – but it's not like you're planning on hitting and running. By betting carefully and going with the better lines you'll knock those wagering requirements out without even thinking twice about them.
So yeah – do the smart thing for yourselves, as well as help us out, and sign up at either Sports Interaction or Bovada depending on your country.
Thanks! Hopefully tonights beers and wings will be thanks to you!
Now onto todays tips:
Red Wings vs Lightning Betting Tips:
Scott: Game one was a good, close game. The Lightning outshot the Wings 46-14 and Mrazek stood tall stopping 44 of them in the Wing 3-2 win. I still feel like the Lightning are the better team and they won't be heading back to Detroit down 2-0. They'll bounce back in this one. And watch out for Stamkos. He went pointless in game 1 but did take 8 shots and will be looking to take his team on his back if needed. Lightning in regulation for 1.83
Graeme: Pardon the pun – but Lightning can't strike twice. Did you watch that game with Tampa and Detroit? Did you SEE the shot count? Absolutely ridiculous. Of course I picked Red Wings as the sleeper pick to win the series, but even AFTER they won their first game – I don't like that bet anymore! I just can't see Red Wings holding out again like that, and I think Tampa will rack up the numbers. Take Lightning -1.5 tonight at 2.70 odds.
Bet at Sports Interaction or Bovada depending on your country. Bovada is for Americans, Sports Interaction is for most others. And if SI won't take ya, go with Carbon Sports.
Wild vs Blues Betting Tips:
Scott: The Wild scored early in the first and never looked back winning game 1 4-2. The Blues won the strong Central Division and the will remind the Wild of that in today's game. Blues Win and look around for the best odds in this one and take them for 1.70 or higher.
Graeme: Wild were a big upset win in game 1 – but boy did they deserve it. It was a wakeup call to the Blues who are going to have to work hard to regain control of this series. Honestly this is one where I'd probably skip – none of the odds are sitting right with me. Blues are decent favourites to win around 1.70 that really aren't that favourable after Game 1. Wild are 2.25 which is a fairly low price when you consider the skill level of the Blues, and ignore Game 1. I also like it to go Under – but only if the line was 5.5. The power play was a decent factor in Game 1 – and it'll be interesting to see how that affects things in Games 2. I think, much like the Capitals bet yesterday – if you're going to bet on this one, you have to bet on the Blues to be motivated, and show what they are made of. If they do that, they should win handily which is why Blues in regulation at 2.10 is really the only play I'd consider.
Bet at Sports Interaction or Bovada depending on your country. Bovada is for Americans, Sports Interaction is for most others. And if SI won't take ya, go with Carbon Sports.
Penguins vs Rangers Betting Tips:
Scott: Game one saw the Rangers score twice in the 1st, including the 1st goal coming at 28 seconds into the game, and won 2-1. I expect this game to be a high scoring game. As the first game is a feeling out game, this one should open up. Crosby & Malkin combined for 3 shots in game one. They'll need better efforts from both of them if they hope to stand a chance in this series. I like the Rangers to win this game but there's no value in that. Over 5 for 1.86
Graeme: It was an interesting Game 1. Rangers won 2-1, but could have been a lot more. I'd like to value bet on the Penguins because 2.70 is a great price – but the Penguins are in that category for me where – until they show they have what it takes – I just shouldn't consider them. So I'll go with Rangers in regulation.
Bet at Sports Interaction or Bovada depending on your country. Bovada is for Americans, Sports Interaction is for most others. And if SI won't take ya, go with Carbon Sports.
Jets vs Ducks Betting Tips:
Scott: Corey Perry put on a show scoring 2 goals and adding 2 assists in the Ducks 4-2 game 1 victory. The Jets went into the third leading 2-1 only to have the Ducks score 3 times in the period. This game could go either way. The Jets are a big, physical team and that's going to wear down the Ducks. But I'm going to go with the home team in this one and hope that the Jets can do some damage once the series moves to Winnipeg for games 3 & 4. Ducks Win for 1.71
Graeme: Ducks did what I expected in Game 1. I love the Jets, and I want them to do the business, and I'm SUPER excited to see their first home game. That crowd is going to be freaking MENTAL. But the better team won in Game 1, and I like the Ducks to win yet again. One big thing for the Jets is their physicality – and they're going to be scared to touch the Ducks after their power play success in Game 1. Big props to the Jets though for making a great game of it though.
Bet at Sports Interaction or Bovada depending on your country. Bovada is for Americans, Sports Interaction is for most others. And if SI won't take ya, go with Carbon Sports.
Seriously – wherever you bet, look at the odds then click through to one of the books above and compare. No doubt you'll find at least one better line.
Follow @BetNHL
BetNHL.ca » Tonights Tips »