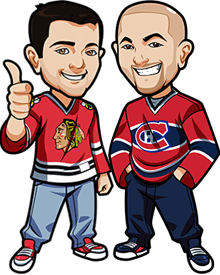 Written by Graeme & Scott on Thursday, April 18th, 2019
Follow @BetNHL
Who would have thought that the headline story after 4 games in the Flames vs Avalanche series was "Mike Smith playing new levels of elite – and it doesn't even matter".
Mike Smith has been in incredible form the last couple of games. 108 saves made in the two road games. Yet the Flames have still lost.
They are now on the brink of going out unless the team is able to help Smith out. It's going to be an interesting Game 5.
Bruins tied up the series against the Leafs. That one just seems destined for 7. And the Dallas Stars came alive and lit up Rinne in a 5-1 thrashing forcing Rinne to get pulled promptly.
It's Thursday, April 18th The Knights can wrap up their series tonight as they head to California. Carolina look to conjure up another special performance to tie up the series with the Capitals. And Winnipeg hope momentum is on their side as they take on the Blues.
Hurricanes vs Capitals Game 4 Betting Tips:
Graeme: I was pleasantly surprised to see that Hurricanes victory even though I tipped the Capitals. That wasn't the way I thought the game would go at all. If anything I thought it would be a close fought game that the Caps just pip – hence a small bet at just above 50/50 odds – but the Hurricanes rocked them….sigh…like a hurricane.
Canes go into this one with a couple of injuries.
Honestly I think Caps will win tonight. But the odds aren't there considering how lopsided Game 3 was. It's hard to look at Game 3 and think the Caps represent any sort of value. No Bet.
Scott: The Canes come into this game down 2-1 in the series and will be without Svechnikov and Ferland for game 4.
The Caps are coming into this game after getting pounded 5-0 in game 3 on Monday. Over the last 2 seasons the Caps have gone 10-4 on the road in the playoffs. They have plenty of experience when it comes to the playoffs after last years run to the Cup.
With the Lightning being eliminated the Caps are the highest ranked team in the East now. With their road success and the Canes injury situation I expect the Caps to smell blood and go for the kill.
Capitals win incl OT/SO – 0.5u
Canada: 2.13 Odds at BetOnline..
USA: +105 Odds at Bovada.
Everyone Else: 2.13 Odds at BetOnline..
(Odds correct as of 2019/04/18 9:37:05 AM EST but are subject to change.)
Blues vs Jets Game 5 Betting Tips:
Scott: This series has been all about the road teams. All 4 games have been won by the visitors. Its been a good series so far.
The Jets top line has been far better than the Blues top line. And with them coming off of 2 wins in a row you would think that they momentum gained worked works in their favor. But the Blues won the first two games and then got beat 6-3 in game 3 in their own barn.
I just cant find anything worth backing in this game and instead will just enjoy whats sure to be another great game.
No Bet
Graeme: I hate these odds. I was hoping after the last two results, and returning home to Winnipeg, that the Blues would be 2.40 or something and then I could back them with ease. But it's close to a coinflip.
I think things are clearly shifting the Jets way. They'll be confident they can get it past Binnington. They owe it to these home fans.
I think there's razor thin value on the Jets. 0.5u on Jets to win incl OT/SO. I also don't think a bet for the game to go to OT would be the worst play.
Canada: 1.85 Odds at BetOnline..
USA: -125 Odds at Bovada.
Everyone Else: 1.85 Odds at BetOnline..
(Odds correct as of 2019/04/18 9:37:05 AM EST but are subject to change.)
Knights vs Sharks Game 5 Betting Tips:
Scott: The Sharks have lost three straight being outscored 16-6 in this stretch. Sharks goalie Martin Jones has been pulled in 2 of those losses so there has to be some issue with the teams confidence in their goalie moving forward.
The Knights have looked great over their 3 game win streak and need only one more to move onto the next round. But the Sharks are at home for this game and with a win they would head back to Vegas with a chance of taking the series the distance with the final game being played in San Jose.
But the Knights are flying right now and its hard to see them losing the next 3 games and ultimately the series. I was going to go with the Knights but the Sharks are a strong team and anything can happen so I felt better avoiding a tip for this game.
No Bet
Graeme: I took the over last time out and for the first time in the series it didn't pan out as the Knights shut the Sharks out.
Sharks are at home and playing for their playoff lifes tonight so the offense has to be hot. But they've had a hard job keeping the Knights out.
I've went with the over each time and it's came up 3 out of the 4 times. I'm fine risking winnings on it happening again. If there's a shutout then so be it. 0.5u on Over 6 Goals.
Canada: 1.84 Odds at BetOnline..
USA: -125 Odds at Bovada.
Everyone Else: 1.84 Odds at BetOnline..
(Odds correct as of 2019/04/18 9:37:05 AM EST but are subject to change.)
Follow @BetNHL
BetNHL.ca » Tonights Tips »