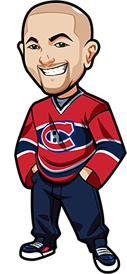 Written by Graeme on Saturday, April 18th, 2020
Follow @BetNHL
So as promised – today I will be analyzing the Quarantine Eating Challenge and providing betting tips on this.
While that may sound ludicrous – it's a lot better way to spend a Saturday morning as opposed to analyzing Detroit Red Wings advanced metrics.
I mean seriously think about that for a second – I take NHL tips and betting seriously. What that means is that throughout the last year, I've watched all 71 Detroit Red Wings games either in full or condensed form.
Many people are upset about hockey being off. Me? Yeah I'm good with not watching any Red Wings games for a little bit longer. If it takes a worldwide pandemic for that to happen? Well so be it. Every cloud has a silver lining.
Seriously though – this is a horrible situation and I cannot wait for it all to be over and I will not complain about a Saturday matinee game featuring the Detroit Red Wings ever again.
So the first round of the Quarantine Eating Challenge is over with. The challenge for that one was to eat 2 pounds of bologna. We now move onto the next round where the challenge is to consume 48 oreos and a half gallon of milk.
This is all available at BetOnline..
It was interesting watching the first round. Gideon Oji was +900 to win but he took it. The reasoning for that though was he was able to pick up the entire stack of bologna at once and eat it.
Badlands Booker struggled big time however he isn't a fan of bologna. The question is if he will be better at just crushing all those oreos into his face or not.
He's a big risk especially after Gideons performance, but I think Badlands to be faster than Gideon is worth a risk. The odds price on Gideon seems based primarily on his performance in the first round. You just won't be able to stack oreos in your mouth like that. He's going to do 2 or 3 at a time and that may cost him.
I also like Matt Stonie to beat Darron Breedon. He's -140 there. His hand to mouth technique was impressive. He was also co-ordinated very well. Breedon however was not co-ordinated well. You'd see him go to take a piece of his bologna and then go to get a drink of water and then stop and go back to the bologna. That lack of co-ordination when it comes to multiple oreos will cost him.
It's possible they will be allowed to dip the oreos into the milk but either way should be okay. Matt Stonie has experience with oreos as he set a world record for most oreos eaten in one sitting.
I'd say 0.5u on Badlands as it's a risk and 2u on Matt Stonie to win.
The over/under for this one is 269 and a half seconds which is 4 minutes, 29 and a half seconds.
The world record was set in 2013 with 78 oreos in five minutes. I'm also going to go with 1u on under 269.5 seconds.
All of this can be bet at BetOnline..
Follow @BetNHL
BetNHL.ca » Tonights Tips »