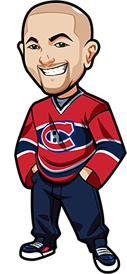 Written by Graeme on Sunday, April 18th, 2021
Follow @BetNHL
Well surprisingly I ended up being awake nice and early today. Forgot the Rangers vs Celtic game was on.
I must admit when I ordered Paul vs Askren I didn't know what I was in for. I thought it would be a general fight card maybe with a couple of musical acts etc. I didn't expect to be sitting there for over an hour as they dragged out musical act after musical act like I was watching one big concert.
Ultimately a big waste of money. But hey Mir and Askren are two of my favourites from over the years so happy to financially support them. I had UFC on the go as well which was also a pretty terrible show – so both shows combined made the evening bearable.
No bets yesterday but three leans and hopefully you jumped on them as they went 2-1 at some nice odds. Even with Vas in net, Panthers were able to do the job and get the goals. Coyotes/Blues didn't go over although I did have a slight lean on Coyotes at that price. And the Sens got a nice and easy win over the Habs.
Gives me some nice confidence spotting those underdog wins like that as that was 3 that I liked. More important was I gave reasons as to why Sabres weren't a good bet due to the historical matchups. Feel good about yesterday and using that sort of data to support picks going forward.
Let's look at todays games. I've actually started to look forward to Sundays as there are so many back to back head to head games ha. It's almost like a day off.
On that note – I'm not actually writing those games off altogether or anything. There probably is an approach one could make to make them profitable or have an edge. It's just too late in the season for me to get motivated and analyze it all.
Lots of writing and analysis but much like yesterday – nothing I feel confident enough about.
Bruins vs Capitals:
These two last played a week ago and the Caps destroyed them. Bruins have had some tighter defensive games since then. Flyers have had a couple of erratic results lately.
Bruins seem to be chanelling the energy from their trade deadline pickups. They are flying high and looking good.
This was one where initially when I glanced at it, I felt it was a 50/50 type game. I probably still feel that way but I do like the way the Bruins are clicking right now and can't back against them.
Devils vs Rangers:
Back to back head to head.
Sabres vs Penguins:
Back to back head to head.
Ducks vs Knights:
These two just played. I said on Friday that the play would have to be Knights -1.5 and I just didn't have the confidence based on previous results. Would have to be the same again. If we look at the 2nd leg results of the Knights recently – it doesn't give me the confidence either.
On the 11th they beat the Coyotes 1-0 after their first game together. On the 7th they lost 3-1 to the Blues. On the 3rd 2-1 loss to Wild. 31st 4-2 loss to Kings. Other than on April 15th, you have to go back to March 13th when the Knights covered -1.5 in this spot.
Not saying they won't. They can take top of the West tonight so that will have them motivated no doubt and I think they can get a big win as it feels like they have some real drive. It's just hard to advise it when a lot of the recent historical data doesn't support it.
If you based it just on Fridays game, Knights -1.5 is the easiest bet in the world. Looking at the previous matchups between the two and the Knights recent result in that 2nd leg I just can't confidently advise it.
Flyers vs Islanders:
Could you really back any team at the moment? Pretty decent price on the Flyers. If Islanders get their shit together on the PP it could be a better game for them. Last three games were super tight and required OT which Islanders won.
If you look at the metrics for the matchups for these games, Flyers have actually been the better side in 5 of the 7 games. Where they struggle is on high danger chances given away and the Islanders capitalize on them.
Very intriguing game from looking at the data. It almost feels like a bet on the Flyers at about 2.35-2.40 is worth it but man I can't bring myself to. I would probably do a draw no bet deal myself just based on the last few game results.
Canucks vs Leafs:
Yeah I have absolutely no idea what the hell to expect from this Canucks team. Matthews might be out tonight. Leafs aren't impressing me lately. This is one where at the odds of about 3.80 you almost want to bet the Canucks don't you?
Follow @BetNHL
BetNHL.ca » Tonights Tips »