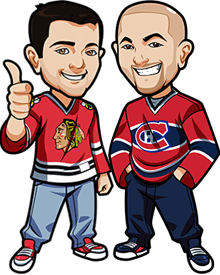 Written by Graeme & Scott on Sunday, April 19th, 2015
Follow @BetNHL
Another excellent night with the betting tips, as we've started off hot for the NHL playoffs.
Our combined opinions saw us go 3-0, with wins for the Lightning, Ducks and Blues. If you went with the higher end of the betting options then it was a great night, with the Blues winning in regulation at 2.10 odds and the Lightning -1.5 for 2.70 odds. Even if you just went for the Blues win and Lightning in regulation – it was still an excellent night for you.
Opposite from the previous day – Scott was the one to go 4-0 this time, while Graeme went 3-1 as the Penguins finally stepped up.
Of course all the news yesterday was about the Oilers getting the #1 draft pick. The highlight of all of that was Connor McDavids interview as soon as it was announced. It was as if someone told him his mother had died. Welcome to Oil Country Connor, where great players go to die!
It's a shame the Leafs couldn't get him; they were even the favourites for the #1 pick going into the final ball. But this draft class is DEEP, and with 2 picks in the first round, Leafs can get themselves two great players.
As always, 4 games today. If you aren't playing it yet during the playoffs, get your arse over to FanDuel. Fantasy Daily Sports are a blast, and our strategy of "always pick Tarasenko" paid off last night!
Capitals vs Islanders Betting Tips:
Scott: This is turning out to be a great series. After getting beat in game 1, the Caps came from behind in game 2 for the win. I still believe the Caps win the series but I'm not sure who's going to win this game. But I think the game is going to be high scoring. Over 5.5 for 2.05.
Graeme: The Capitals showed what they can do when properly motivated. They just have to be losing 3-1 and down a game for that to happen! I like the Capitals to continue that momentum tonight. I'll be betting on the Caps win tonight at 2.20 odds.
Predators vs Blackhawks Betting Tips:
Scott: What a beat down the Preds handed out in game 2. The Hawks are going to go with game 1 hero Darling in this game. And I think the Hawks are going to need Vermette in the lineup. Shea Weber is going to miss the next two games. So the Hawks are going to need to capitalize on this. The Hawks play better at home in front of their crazy fans. They need to take the next two when the Predators are without their best player and captain. Blackhawks in Regulation
Graeme: A fascinating series between these two. It started off with the Hawks come from behind victory, then the Preds wiped the floor with them. Being in Chicago is going to be an insanely different dynamic. Based on everything that has happened so far – I think betting Over 5 is a safe enough bet.
Canadiens vs Senators Betting Tips:
Scott: The Sens will need to win both of their games at home here if they hope to stand a chance in this series. They can't afford to head back to Montreal down 3-1. I think emotions have gotten the best of the Sens. They will be much more focused in this one. I still think Habs in 5. So the Sens should take one of these games. Sens Win for 1.76.
Graeme: I liked the Sens before the series begun, but that opinion is really starting to waiver. Props to the Sens for two tight games – but there just seems to be a different skill level between the teams, and the Habs are a class above. They look in full control of each game and they've broken down the Sens biggest plus – the goaltending situation. This is going to be an amazing environment to play in, but I think Habs have what it takes to revel in it. Habs to win. 2.10 is the WA line.
Canucks vs Flames Betting Tips:
Scott: What a crazy finish to game 2. Line brawl and the Canucks won 4-1. This series is going to go long. But with the game in Alberta, this is going to help the Flames. I think they're going to trade wins up until the 7th game with the Flames moving onto the 2nd round. Flames win for 1.76.
Graeme: The two go into this one at 1-1. Flames squeaked the big win on Game 1, but the Canucks returned big on Game 2. This one has been boiling over, and in front of this Flames crowd I think that's where it really goes crazy. I'm going to take Over 5 goals in this one.
$25 risk free bets on player prop, in-game bet and $50 risk free mobile bet. Available for NEW customers only at BetOnline.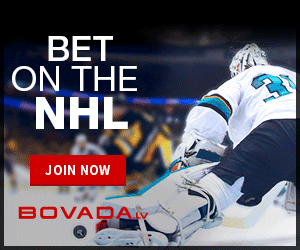 Follow @BetNHL
BetNHL.ca » Tonights Tips » April 19th, 2015 NHL Betting Tips