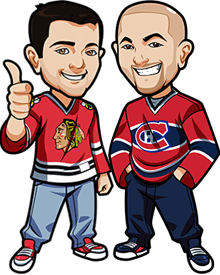 Written by Graeme & Scott on Tuesday, April 19th, 2016
Follow @BetNHL
As Graeme predicted, the Capitals got the win over the Philadelphia Flyers. It was a thumping that Flyers fans deserved after some crappy behaviour throughout the game. Hopefully the Capitals wrap that series up in Game 4.
We went 1-1 with our consensus picks for a +0.05 unit profit there. We took the LA Kings to win and they did just that in a series that has seen a road team win all 3 times. Going to be interesting to see if Kings can tie it up.
Quick Note for Americans: For Euro 2016 Betting, go toBovada who offer a 50% to $250 bonus and the best markets for Euro 2016.
We lost with the Stars vs Wild as Minnesota showed some amazing signs of life. The Stars couldn't handle their offense and major props to the Wild for that – the heads could have went down when the Stars took the lead early on but they bounced back in spectacular fashion.
We have 4 games tonight so let's get to it:
Lightning vs Red Wings Betting Tips:
Graeme: Game 3 saw Mrazek step in and have a shutout as Wings beat Lightning. Despite that great win something has to be said abotu the Wings pathetic power play conversion ratio at the moment. I'll be honest I'm not sure about this game at all. If it continues the trend of the last 3 games with all the penalties I think it's a mistake betting on it as they add such a high variance. But on the other hand I can never resist following a hot goalkeeper, so I'll go with the Red Wings for the W. The way they shunned the Lightning top line in Game 3 was beyond impressive.
Canada: 1.77 Odds at Sports Interaction Plus $20 Free Bet.
USA: Bet at Bovada.
Everyone Else: 1.76 Odds at Bet365 (Americans: We recommend http://www.bovada.lv.
Scott: The Wings went with Mrazek in game 3 and he made 16 saves for the shutout.  But the Wings held the top line of Johnson, Killorn and Kucherov, who combined for 15 points over the first 2 games, without a shot.  I can't see the Wings holding them pointless and without a shot for 2 straight games and I like the Lightning to bounce back in this one
Lightning win
Canada: 2.15 Odds at Pinnacle Sports.
USA: Bet at Bovada.
Everyone Else: 2.15 Odds at Pinnacle Sports.
Penguins vs Rangers Betting Tips:
Graeme: With the series tied at 1-1 it moves to New York. Rangers had the 3rd best home form in the NHL during the regular season. However the Penguins had the 6th best form on the road thanks to some very solid defensive performances away from the Consol Energy Center. This is such a tricky game and Fleury looks to be a game time decision. My bet is based on Fleury NOT playing. If he doesn't play, take Over 5.5 goals as despite the regular season stats, we're getting an excellent price on it considering the last two games.
Scott: With Lundqvist back the Rangers came to life and won game 2 4-2.  I like the Penguins to come out swinging in this one.  The Rangers have lost the last 2 games against the Penguins when they're at home.  But with the momentum gained from last game that may change tonight.  I like this game to be high scoring like the first 2 were.
Over 5.5
Canada: 2.31 Odds at Pinnacle Sports.
USA: Bet at Bovada.
Everyone Else: 2.31 Odds at Pinnacle Sports.
Blues vs Blackhawks Betting Tips:
Graeme: This seems like one of those series which is destined to go 7 games with the teams just trading wins. I do like the Blackhawks to win here but I think it's going to be tight and the odds are worse than Game 3. I just can't justify a bet on the Hawks to win and I'm not 100% convinced the Blackhawks can do it without overtime. No Bet.
Scott: A costly 4 minute penalty by Patrick Kane lead to the game winning powerplay goal by the Blues and the Hawks blew their 3rd period lead which is a thing that very rarely happened during the regular season.  With the Hawks down 2-1 they need to take advantage of being at home and win this game to tie the series at 2.  The Odds aren't great for a Hawks win but I'm nervous about a regulation win. No Bet.
$25 risk free bets on player prop, in-game bet and $50 risk free mobile bet. Available for NEW customers only at BetOnline.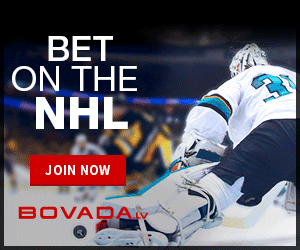 Ducks vs Predators Betting Tips:
Graeme: The Predators take a surprise 2-0 lead to Nashville after shocking the Ducks. This is an absolutely massive game and I think the Ducks are going to leave it all on the ice after this one. I'm taking Over 5 Goals knowing how offensive the Ducks can be on the road.
Canada: 1.91 Odds at Sports Interaction Plus $20 Free Bet.
USA: Bet at Bovada.
Everyone Else: 1.86 Odds at Bet365 (Americans: We recommend http://www.bovada.lv.
Scott: After the 2nd half of the Ducks season and they way the played I didn't see the Preds being up 2-0.  With the series now in Nashville for 2 games the Ducks could be in trouble.  But I believe they can claw their way back and make a series of this and that should start tonight.
Ducks win
Canada: 1.95 Odds at 888 Sports.
USA: Bet at Bovada.
Everyone Else: 1.95 Odds at 888 Sports.
Follow @BetNHL
BetNHL.ca » Tonights Tips »