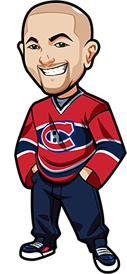 Written by Graeme on Wednesday, April 19th, 2017
Follow @BetNHL
The Sharks performed just like I expected them to – unfortunately it was in Game 4 that they performed, when I was expecting this level of performance in Game 3!
After 2 weak games and no goals, I just couldn't bring myself to back the Sharks last night. However they came out motivated beyond belief and wouldn't let up as they thumped the Edmonton Oilers 7-0.
The Sharks put on an absolute clinic and it's tied that series up at 2-2.
In the other games we saw a much better performance from the New York Rangers as they also tied the series at 2-2. Boy were those two teams going at it. There is going to be some mighty brawls in the next couple of games I expect.
Bobrovsky didn't step up but the rest of the Blue Jackets did. It was a fighting performance from them as they gave themselves a lifeline with a 5-4 victory over the Jackets.
We move onto Wednesday, April 19th and a bunch of Game 5s. It could be the end of the playoffs for the Wild and Flames as both need to win or they're sweeped.
Let's get to it. Scott is traveling back today so we should be back in business with the alternating picks as of tomorrow.
Leafs vs Capitals Betting Tips:
First of all let me state that I am doing a no bet for this game. The Capitals overall are the better team but they're not showing it. This is an absolutely massive game and with the chance to go up 3-1 the Leafs are going to be up for this game like no other.
What I would suggest however is if you like the Capitals – bet the Capitals to win the series instead.
The odds on the Capitals to win this game are about 1.68. The odds for the Capitals to win the series are 1.93 at BetOnline..
If you like the Capitals to win tonight, you like them purely because they're the better team – not because of the playoffs thus far. So rather than risk it on one game at shitty odds on the road, why not buy yourself that extra insurance?
If the Caps win tonight it's 2-2, Caps reclaim home ice advantage and the series bet is looking much better. If the Caps lose tonight you still have that added insurance that it's not over.
I looked around and the best odds are at BetOnline.. For Americans, BetOnline..
Senators vs Bruins Betting Tips:
This has been an extremely close series. I was surprised in the last game how little the Bruins were able to put pressure on Anderson. The Sens really came to play in that one.
To be honest I haven't been happy with the Bruins offensive output all series.
I think the Bruins are going to come out hard after the way the last game ended and the penalty.
The odds aren't good enough for me to go with Bruins including overtime and shootout but if the Bruins play the way I expect them to play I can't rely on that backdoor win anyway.
Bruins to win in regulation.
$25 risk free bets on player prop, in-game bet and $50 risk free mobile bet. Available for NEW customers only at BetOnline.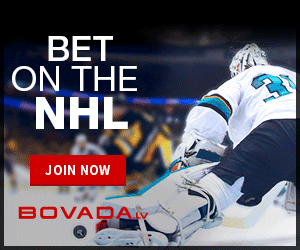 Wild vs Blues Betting Tips:
See below.
Flames vs Ducks Betting Tips:
I'm combining these two games together.
During the Summer, I crunched a bunch of numbers in regard to the playoffs to see what statistical trends there are. I don't have the raw data handy just my notes – but it states that regardless of home/away, odds and seed – to back a team that is 0-3 if they are 1.82 or above.
Both the Flames and Wild are in that spot.
Of course that's not a proven science by any means. It's a small sample size, things change etc but I do like to look at things like that for guidelines.
Looking at both games I've decided to go with the Flames to win but skip the Wild/Blues game.
The Flames have played some damn good hockey all series and they're just not getting the luck. This is a massive game for them and they've shown they have the fighting spirit. I feel good backing them tonight.
I'm going to skip the Wild game because of the goalie factor. There's something to be said about a goalie who is playing as well as Allen. It can be demoralizing for a team if they can't get an early goal.
The Blues are also playing damn good overall. The Wild are making some drastic line changes which shows they're out of ideas. I'm not convinced on Minnesota tonight.
Follow @BetNHL
BetNHL.ca » Tonights Tips »