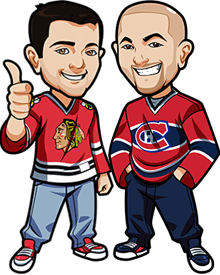 Written by Graeme & Scott on Thursday, April 19th, 2018
Follow @BetNHL
The San Jose Sharks are the 2nd team to make the NHL playoffs, after a 2-1 victory over the Anaheim Ducks. Despite not having home ice advantage they managed to sweep the Ducks and will now move on to face the Vegas Knights. In the regular season they had 4 tight games with the Knights coming out ahead in 3 of them.
Our 0.5u play on the Flyers lost as the Penguins crushed them. Unfortunately that game was all but over after the first 15 minutes. The Flyers couldn't handle a strong opening rush from the Penguins and gave away a silly penalty which resulted in a PPG. Then they had 3 excellent shifts that required some sick heroics by Murray to keep them at bay, and it all resulted in a quick counter goal from the Penguins.
Something like that always takes the wind out of the sails and the Flyers couldn't come back from that. Coots was clearly a big loss for them – always sucks for a team in the playoffs to get an injury like that.
Tampa and Nashville both got key road wins to take a 3-1 lead back to home ice and it's going to require some big efforts from the Avs and Preds in those games.
It's Thursday, April 19th and we've got two Game 4s. The Leafs host the Bruins while the Jackets host the Capitals. Both the Leafs and Capitals are down 2-1.
Let's get to it:
Bruins vs Leafs Game 4 Betting Tips:
Graeme: One thing that is really impressive is the Leafs got the victory in Game 3 despite missing both Komarov and Kadri. Andersen also stepped up big and made some exquisite saves – it took the best offense the Bruins had going to get the puck past him.
For the Leafs to win again they probably need another performance like that from Andersen. However that seemed to be a response to being pulled from Game 2. Can he do that again here?
Honestly I'm just too conflicted to make a bet. The Bruins are the better team, and the Leafs are withoug Komarov again. However despite all that I find it hard to bet against a hot goalie and it's highly possible Andersen continues the momentum into this one. If he does that could affect the over. No Bet for me.
Scott: The Bruins handled the Leafs with ease over the first two games winning both by a combined score of 12-4.  The Leafs picked up a huge win in game 3 to make a series of this.
I feel the Leafs gained some huge momentum in game 3 and that'll carry over into game 4.  I'm not sure that the momentum will be enough to get them through this game.  They'll need more from Matthews, Nylander and Marner as they did in game 3 where they combined for a goal and 3 assists.
This is a huge game for both teams and with the extra day off between games I expect a big effort from both teams.
Over 6 incl OT – 1u  
Canada: 2.00 Odds at Sports Interaction + $20 Free Money Line Bet.
USA: -105 Odds at Bovada.
Everyone Else: 1.95 Odds at Bet365 (Americans: We recommend http://www.bovada.lv.
(Odds correct as of 2018/04/19 10:35:48 AM EST but are subject to change.)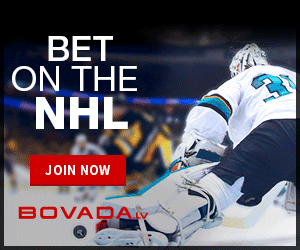 Capitals vs Jackets Game 4 Betting Tips:
Graeme: I went with the Capitals in Game 3. Despite the first two results the Capitals had put up strong efforts and just had to change their game plan slightly. They did that hoever it was yet another tight one that ended in overtime.
I hate to go with no bets twice in a row, but I've go to go with no bet here. Each game in this series really just feels like a coin flip right now, and when we're not getting better odds than 2.00 it's not worth the bet. Sometimes it's okay to take a night off.
Scott: Game 3 was nuts and needed an extra period and a half to be completed but it was the Caps scoring at the 9:00 minute mark of the 2nd OT to make the series 2-1 Columbus.
This series has been a close one and is only the 22nd in NHL history to have 3 games in a row needing OT.
With each game being so close I'm having a tough time predicting a winner.  I think I'll avoid a tip for this game and just enjoy what's sure to be another great game.
No Bet 
Follow @BetNHL
BetNHL.ca » Tonights Tips »