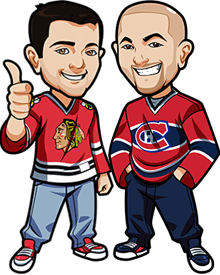 Written by Graeme & Scott on Friday, April 19th, 2019
Follow @BetNHL
An intense night of hockey last night.
The Carolina Hurricanes made it 2-2 with an important 2-1 win over the Capitals. Things are going to be interesting in Game 5 as with the way the Hurricanes perform, it's anyones game.
The Blues/Jets series continued to favour the road teams with the Blues coming from two behind and winning 3-2. Winnipeg just can't seem to protect a lead at home.
The Sharks got a much needed win over the Knights to keep the series alive as they won 5-2.
Friday, April 19th sees two games.
The Leafs take on the Bruins in Boston, and the Calgary Flames have their playoff dreams on the line as they host the Avs.
Good night of hockey. Let's get to it:
Leafs vs Bruins Game 5 Betting Tips:
Graeme: Playoff betting is always interesting. Sometimes there's something you pick up on from the last game that you feel will apply to the next. Other times it's about gauging a teams mental ability and how they will cope. Other times it's just about following the trend if the odds are good enough. And then sometimes it's more just about a feeling than anything else.
These two teams are trading wins. If that trend continues tonight, the Leafs will walk out winners.
However I have that feeling that we see a similar performance from the Bruins that we saw in Game 2. A much more physical game in their home fortress. That game was one that gave me some serious concerns in this series.
No Bet as I ride my Leafs to win the series bet instead.
Scott: The Bruins had a 5-2 lead in the 3rd and held on as Toronto made a comeback but came up short when the Bruins won 6-4. The Bruins scored 2 power play goals in this one so the Leafs will need to have a bettter effort when killing penalties or stop taking them altogether.
This series has been as good as expected with these teams trading wins and its now a best of 3 with the teams tied at 2-2.
If the trend continues then it should be a Toronto win.
Leafs win incl OT/SO – 0.5u
Canada: 2.25 Odds at Bet365 (Americans: We recommend http://www.bovada.lv.
USA: +125 Odds at BetOnline..
Everyone Else: 2.25 Odds at Bet365 (Americans: We recommend http://www.bovada.lv.
(Odds correct as of 2019/04/19 9:54:19 AM EST but are subject to change.)
Flames vs Avalanche Game 5 Betting Tips:
Scott: Smith has been incredible but the Flames are still down 3-1 in the series.
It seems that being conference champs has been a curse these playoffs as the Lightning are elimnated after being swept and now the Flames are on the brink of elimination themselves.
With the Flames at home I like them to win this game but I didn't expect the Flames to be in this situation at all this series so I am avoiding a tip for this game.
No Bet
Graeme: It's do or die for the Flames, as they look to turn things around. Their offense needs to get ticking and the defense need to give Mike Smith a break.
The advanced metrics say it all. PDO is almost non-existent, and HDFC and CF are strongly in the Avs camp.
The question is can the Flames muster up the performance tonight?
Flames were a big momentum team during the season. They'd lose a few then go on a prolonged winning streak. My honest opinion? If they win tonight, they take the series.
Nothing from the past couple of games suggest the Flames turn it around. But I think they do tonight. I just have that feeling, and I'm going to back Flames -1.5 for 0.5u.
Canada: 2.65 Odds at BetOnline..
USA: +165 Odds at BetOnline..
Everyone Else: 2.65 Odds at BetOnline..
(Odds correct as of 2019/04/19 9:54:19 AM EST but are subject to change.)
Follow @BetNHL
BetNHL.ca » Tonights Tips »