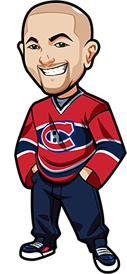 Written by Graeme on Monday, April 1st, 2013
Follow @BetNHL
The wins keep on coming as we rack up another winning night. I tipped the Blackhawks, Kings and Capitals all to win but was feeling nervous about it. Those nerves disappered at about oh…5 minutes into the Blackhawks game. Chicago just tore apart the Red Wings for a huge 7-1 victory.
LA also picked up the nice victory on Dallas and the only one who let us down was the Capitals. Washington had that one so it was an extremely frustrating way to stop the perfect day, but a nice 2-1 day to continue our sick run is something I'm still very happy with.
I want to send special thanks to Joe C. and Walter S. for supporting my sponsored Walk for Kids Can Talk Charity. Very much appreciated and if anyone wants to do so you've got plenty of time as it isn't until the beginning of May.
Yesterday, I shared the video of Sidney Crosby getting his teeth knocked out. I know it's mostly hockey fans that visit here so you might have missed Kevin Wares injury from the NCAA March Madness tournament yesterday. If so – yikes, this video is NOT for the squeamish:
Brutal.
Gif of the day: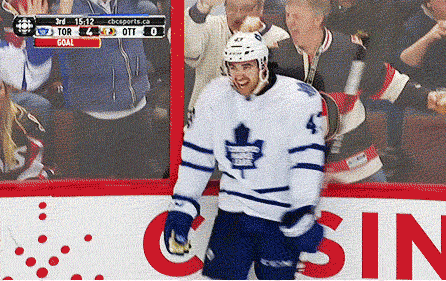 How long has it been since we saw smiles and euphoria like that on the faces of the Leafs? Nice to see after that big win over the Senators. Bonus points for the COMPLETE RAGE shown by the Sens fan behind them.
Today is April 1st, 2013 and we've got a busy Monday when it comes to NHL games. 9 games on the board tonight actually.
Canadiens vs Hurricanes Betting Tips: Habs -1.5
We're going to start off by backing my Habs to sweep the Hurricanes. The Montreal Canadiens have won the first two games – 3-0 in Montreal and 4-2 in Carolina.
The Hurricanes have been extremely poor lately. They were on a 7 game losing streak before picking up a win against the Winnipeg Jets. But the Jets pretty much handed them that game – and in doing so, we saw how inefficient Carolina were. The Hurricanes had 7 powerplayers in that game and failed to capitalize on any of them, and the only reason they picked up the win was because Winnipeg got tired due to all these PPs.
Ward being out too is a huge issue for them and one that they can't seem to deal with. The Habs meanwhile are just doing fantastic at the moment, and had a beautiful 9-3-2 record in March. One thing I love to see is a team leading from defense, and no-one does that better than the Habs at the moment, with PK Subban in particular the star player.
I'm liking the Habs to complete the sweep with at least a 2 goal win here in Montreal. Get 2.6 odds on Habs -1.5 at 5Dimes. It's 2.5 everywhere else.
Blackhawks vs Predators Betting Tips: Blackhawks -1.5
Handicaps can be scary to bet in hockey but I see some great value with the Blackhawks here. They've already demonstrated in the season that when the goals come – they won't stop. You see some teams go out there, rack up a 4-0 win then struggle to even score 1 in the next game. Chicago have never suffered that – when they score it just riles them up and usually gets them scoring more.
Now they're taking on a Nashville team who have been struggling, while the Blackhawks look like they're getting their mojo back. Both Sharp and Hossa could return against the Predators, and I'm banking on at least one of them to be back and for the Blackhawks to win by at least 2 – 2.7 odds at 5Dimes.
Flames vs Oilers Betting Tips: Over 5.5 Goals
We're getting a great price of 2.1 odds at 5Dimes on the Over 5.5 goals which is a price we can't ignore.
Edmonton seem to be scoring goals at will lately, while the Flames have been conceding a lot. The last time these two teams played saw Calgary win it in a 4-3 thriller. There's usually always a faira mount of goals in the "Battle of Alberta" especially in recent times. I'm liking the over 5.5 goals especially with that price at 5Dimes.
Follow @BetNHL
BetNHL.ca » Tonights Tips »