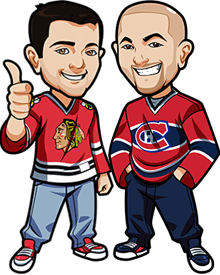 Written by Graeme & Scott on Friday, April 20th, 2018
Follow @BetNHL
Two big road wins yesterday in the playoffs as the Bruins and Capitals logged convincing victories.
The Bruins now take a 3-1 lead back to Boston where you have to expect they'll be in with a good chance of wrapping it up. Leafs will have to play the game of their lives to stand any chance.
And the Capitals reclaimed home ice advantage. After losing two at home they beat the Jackets with the first convincing win of the series and it makes for an intriguing Game 5.
Tonight could see 3 series wrap up with the 3 home teams all going into tonight at 3-1. The Penguins, Jets and Predators all deserve to make it to the next round based on the games so far and it's going to take some big performances from their opponents to stand a chance.
Let's see what we can rustle up tonight:
Penguins vs Flyers Game 5 Betting Tips:
Scott: Even with the last two games being in Philadelphia, the Pens destroyed the Flyers winning both games by a combined score of 10-1.
With Couturier out and the Flyers looking like garbage I have to think the Pens win this game at home and move onto the 2nd round.
Penguins -1.5 – 1u  
Canada: 2.17 Odds at BetOnline..
USA: +114 Odds at GT Bets..
Everyone Else: 2.17 Odds at BetOnline..
(Odds correct as of 2018/04/20 9:48:07 AM EST but are subject to change.)
Graeme: The Flyers certainly have it in them to get a W – but they just don't seem disciplined enough to do it. That 1st period last time out really summed it up for me – giving away silly penalties that cost them, and then when they dominated for a period but ended up conceding, the heads went down.
Coots is a bigger loss than expected and even if he plays tonight he won't be 100%. This is one I'll be refraining from betting, however I'll be paying close attention to the live betting. If the Flyers get an early goal I think that will give them the confidence to win, and I'll be rushing on to bet them at that point. In saying that Penguins will probably clean their clocks and Pens -1.5 is a good play. Based on the way the games have gone, it's the Penguins game to lose. No Bet.
Jets vs Wild Game 5 Betting Tips:
Scott: The Jets had a nice bounce back in game 4.  With the win they are now 1 win away from winning their first playoff series in franchise history.
With Parise out and the Jets at home and a first 2nd round appearance on the line, I think the Jets are going to show up big time in this game.
Jets in regulation – 0.5u
Graeme: Last time out I tipped Wild however later in the day it came out that Parise was out with a broken sternum. That news just came out of nowhere and was an obvious game changer. In saying that I also completely forgot how good a bounce back team the Jets were. I'd made a lot of money in the regular season on their bounce backs so that was a dumb mistake by me. Not that I would have backed them but it would have been a no bet situation.
The Jets have been excellent at home, and the Wild looked like a team that had given up after the Parise news. If they pull it together tonight then credit to them but I just don't see it.
Jets in Regulation – 1u
Canada: 1.78 Odds at Casumo
USA: -128 Odds at BetOnline..
Everyone Else: 1.78 Odds atCasumo
(Odds correct as of 2018/04/20 9:48:07 AM EST but are subject to change.)
Predators vs Avalanche Game 5 Betting Tips:
Scott: The Preds are at home and they are amazing in Nashville winning 15 of their last 17 when at home.
Andrew Hammond has been confirmed to start for the Avalanche.  He has gone on a crazy run before when he was with the Sens and they will need him to do that again if the want to have a chance in this series.
But with the Preds at home I like them to win this game.  The odds are horrible for that and not much better for a regulation win.  I'll avoid a bet on this game.
No Bet
Graeme: I'd love to be able to tip the Avalanche here. They're a ridiculous price. They've fought hard in every single playoff game and even have a W to their name. They're at least 3.75 and that's really a ridiculous price considering their performances.
However then you've got the Nashville Predators who to put it simply – are a much better team. Bernier is out now too for the Avs and they have to rely on Andrew Hammond.
I'd love the story of Hammond turning this thing around – recapturing the form that led the Sens to the playoffs in 2014/2015 and shutting the Preds out. But I just can't see it.
I'll be placing a bet on the Avs to win simply to give me something to root for in the game, but even at this high price I just can't advise it. No Bet.
Follow @BetNHL
BetNHL.ca » Tonights Tips »