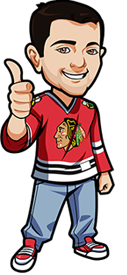 Written by Scott on Sunday, April 21st, 2013
Great night of hockey and betting as we went 2-0-1. The Islanders – Jets game went easily over 5.5 goals ending with 9 goals in a 5-4 win for the Isles. Also the Flyers – Hurricanes was well over 5.5 with a 5-3 Flyers win. Our push bet for the night was the Blackhawks loss to the Coyotes in a shootout losing 3-2.
Well for the first time in 9 years the Toronto Maple Leafs are in the playoffs so that means that the bandwagon should be full for the rest of the year. The Habs continue to struggle losing 5-1 to the Caps. Vancouver beat Detroit in a shootout making the Red Wings playoff chances that much harder for them. Just overall a great night of hockey.
8 games on for Sunday April 21st and a couple of them involve some teams on the bubble or in but in need of points to secure a playoff spot. New Jersey is in New York to play the 8th place Rangers in a must win game for the Rangers. And 8th place Columbus are in San Jose to play the Sharks. With games starting at 12:30 est and ending around 12 hours later its just a fantastic full day of hockey for us to enjoy
So lets get to the reason you are here and that's for the NHL Betting Tips for April 21st
Hurricanes vs Lightning: A Goal Will Scored Before 9:30 Of First
These teams had great starts to the season but are now eliminated from contention. So with nothing to lose they will be scoring at will in this one. The Over / Under for this one is 6 so even the Sportsbooks expect there to be plenty of goals.
Not only will there be lots of goals but they will start scoring early on in this game and with the odds that a goal will be scored before 9:30 of the first period being 1.72 at http://www.bet365.com(Non-Americans) http://www.bovada.lv(Americans) there is some money to be made off of a fun bet that has a great chance of happening.
Panthers vs Bruins: Bruins Puck Line -1.5
The Bruins haven't had a win since the horrible happenings of the Boston Marathon and have had to postpone games and practices due to fear for their and everyone else associated with the teams safety. Well now that the two suspects have been caught the Bruins can now practice and host games without fear.
Well Florida is going to take a beating in this one. The Bruins want a win not only for themselves but for the city of Boston also. This game will be won by the Bruins by more than 2 goals and if you agree with me then head to http://www.bet365.com(Non-Americans) http://www.bovada.lv(Americans) and bet the Bruins -1.5 puck line for 2.05 betting odds
Blue Jackets vs Sharks: Blue Jackets To Win
I had counted the Blue Jackets out from the very beginning of the season but wow have they proven me wrong. I know this will be a difficult game for them but you can never count them out. Bobrovsky is on fire which has lit the rest of the team on fire as well.
You almost have to be rooting for the Jackets at this point after losing the face of the franchise in Rick Nash nobody expected anything from this team. But here we are with a week left in the season and they are on the playoffs.
Head to http://www.bet365.com(Non-Americans) http://www.bovada.lv(Americans) and bet the Blue Jackets will win for 2.45 betting odds
Best America Sportsbooks for NHL
BetNHL.ca » Tonights Tips » April 21st, 2013 NHL Betting Tips