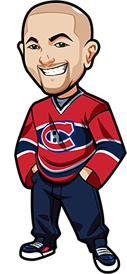 Written by Graeme on Tuesday, April 21st, 2015
Follow @BetNHL
Sorry for my absence yesterday for the tips; as mentioned I was hungover as all hell.
We had went to a bar to watch the Blackhawks vs Predators game. After that, Scott proceeded to order us a pint each then his ride showed up – so I was left with 2 full pints and I just HAD to drink them. By the time I was done it was the end of the 1st period in the Habs game, and I just HAD to stay for that.
I've got no excuses for why I stayed there for the Flames vs Canucks game though!
Damn you beer.
Okay so it's April 21st, 2015 and we have 4 games tonight. We have a Game 3 with the Lightning vs Red Wings, and then three Game 4s with the Blackhawks vs Predators, Capitals vs Islanders and Canucks vs Flames.
Should be a good night of hockey. Let's get to the tips:
Lightning vs Red Wing Betting Tips:
Scott: Game 3 with the series tied at a game apiece. The Bolts scored the first 4 goals in game two and breezed to a 5-1 win. They need to take at least one game in Detroit and they will. Wings expected to go back to Mrazek for this game after getting lit up last game. Lightning Win at 1.83.
Graeme: Two dominating games by the Lightning, but they're tied at a game apiece going into this one. Tampa are fairly average on the road, while the Wings are solid. But the sheer domination from the Lightning concerns me. I couldn't pick a winner here if you held a gun to my head. I have to hope the Red Wings are more competitive at home, and that this one is a battle. And that Mrazek doesn't step up like he did in Game 1. The odds of 2.20 are enough for me to go with Over 5.5 goals.
Capitals vs Islanders Betting Tips:
Scott: Caps are now down 2-1 in the series. They can't afford to lose another if they hope to stand a chance in this series. Last game was close but it was the Isles winning 2-1 in OT. They will need more shots in this game. Holtby made 42 saves so he did his part. It's up to the rest of the team to take more than the 26 like they did in game 3. Capitals Win 2.15
Graeme: Capitals are a team that seem to need that extra motivation in games. At this point, I honestly don't know if they can win the series but I think they will step it up tonight and get the big W. Capitals to win.
Predators vs Blackhawks Betting Tips:
Scott: What a game by the Hawks in game 3. They traded goals until the Hawks put up two unanswered and held on for the 4-2 win. Scott Darling looked solid yet again as Crawford watched from the bench. I like the Hawks to win but doesn't hit the 1.70 minimum and not as confident about regulation time. No bet for this one.
Graeme: All 3 games so far have went over. 2.25 odds on Over 5.5 goals? Sure why not. Blackhawks are always good for the goals, and Preds need to throw caution to the wind in this game. Over 5.5 goals.
Flames vs Canucks Betting Tips:
Scott: What a series this is turning out to be. Back and forth and emotions are boiling over. They will trade wins which means…Canucks Win 2.00
Graeme: I think the passion from the Flames is just too strong. This is a team that are so pumped to be in the playoffs, and doing everything they can to stay that way. A massive game, but I think the Flames pick up a huge result here.
Follow @BetNHL
BetNHL.ca » Tonights Tips »