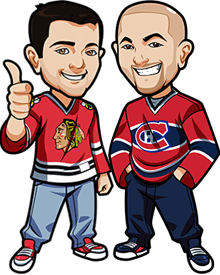 Written by Graeme & Scott on Saturday, April 21st, 2018
Follow @BetNHL
It was a winning night with our unanimous pick of the Jets to win as we managed to avoid the two huge upsets in the other games.
In Game 4, the Jets/Wild series looked over with after the Parise injury. Game 5 confirmed that as the Wild just looked done for. A real sad way to go out as that injury completely killed them mentally.
We weren't complaining though as not only did we pick them to win, but we had picked Jets -1.5 for the series so it was nice to lock that one up as well.
The Flyers had the return of Sean Couturier to help spark them and that's what it did. He clearly wasn't 100% but he still scored and the Flyers kept battling hard all game, and came away with the W. Scott had went with Pens -1.5 there which didn't pan out, while Graeme was live betting the Flyers if they went 1-0 up. They were still underdogs too at that point which was nice.
Neither of us touched the Preds game despite how obvious a result it looked. What an amazing return to the NHL that was for Andrew Hammond. That was beautiful – major props to him.
A result like that is also a nice reminder as to the variance in hockey, and why bankroll management is important. A lot of people were on the Preds yesterday and based on comments around the web a lot of people are pretty devastated today after betting way beyond their means.
If you were hurt bad by that one then implement a bankroll management system today. Whatever your current amount is – divide it by 100 and then you have a 100 unit bankroll. So if you have $850, then 1 unit = $8.50.
From there go with something simple. We think a 1/3/5 unit system is pretty good to get started. 1 unit is for the more speculative/casual bets. 3 units is for games you're feeling confident about and should be your usual stake, and 5 units is reserved for those games you deem as a "lock". Preds and Pens last night probably felt like that to a lot of people. But instead of waking up full of big regrets, you're waking up having lost 5 or 10 units out of a 100 unit bankroll. Not such a big deal, and it'll keep you restrained from chasing your losses tonight.
To win at hockey betting it's not about loading up on just one specific game – it's all about grinding the bankroll up slowly and betting with caution – variance in hockey is a bitch.
Speaking of things that are a bitch – Devils/Lightning and Jackets/Capitals both kick off at 3pm EST today. Seriously? Couldn't stagger those even a little bit NHL? I mean come on.
Finally one last thing – one common mistake in sports betting is to be too reactive. You've got two relatively strong favourites tonight in Lightning/Bruins – don't react to last night and bet the underdogs just because of that. Not saying there's not reasons to bet the Devils or Leafs but don't factor last nights results in at all. Same with trends such as over/unders. Only 1 game in the last 12 has went over 5.5 goals. That doesn't "guarantee" tonights will go under or anything. Trends like that are cool to spot but take the time to really analyze them, figure out why they went under, and then bet accordingly.
Let's get to it:
Lightning vs Devils Game 5 Betting Tips:
Scott: The Lightning have a 3-1 lead and look to end the series today.
Kucherov has been amazing.   He scored twice in game 4 and has nine points over the series.  I like Tampa Bay's chances of moving on in this one.
Regulation odds are low for a Lightning win and I don't have enough conference going with a -1.5
No Bet 
Graeme: Tampa can move on to the next round with a win tonight. They won both of their home games and their offense has been excellent all throughout the playoffs.
The Devils just can't stop the Tampa offense and at home today I think they've got to wrap it up. Tampa held NJD to just one goal last time out at the Prudential and that was impressive. Have to wonder if the Tampa backend are starting to show up.
The odds aren't great but I'll take 0.5u on Tampa in Regulation.
Canada: 1.68 Odds at BetOnline..
USA: Best Odds at Bovada.
Everyone Else: 1.68 Odds at BetOnline..
(Odds correct as of 2018/04/21 8:53:06 AM EST but are subject to change.)
Capitals vs Blue Jackets Game 5 Betting Tips:
Scott: Ovechkin guaranteed a win in game 4 and he delivered picking up a goal and an assist in the Caps 4-1 win.
The road team had won each of the 4 games in this series and half of the games needed OT.
I'm sure the Caps will have the momentum after winning two in a row but with each game being won by the away team, and all of the overtime needed, I can't back the Caps in this one and will avoid making a tip for this game.
No Bet 
Graeme: Caps go into this with the momentum but we can't forget what happened in Washington in the first two games.
I always hate betting on the Caps as regardless of the situation or the current score, they never seem to play any differently. Whether they're up 2-0 or down 1-0 they just seem to have the same lazzadazical approach to me. Maybe it's just way too subtle for me to notice or something.
Anyway as for this game – Caps should win. They're riding the momentum wave and I like them. But the odds – especially after the first 2 games – don't make them backable. The Jackets might be a good value play but with the dominance of Game 4 in the back of my mind, I'll be going with No Bet. Out of the two I'd prefer to be on Washington though – their game to lose.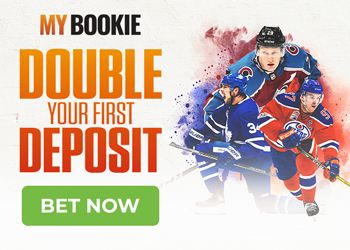 Bruins vs Leafs Game 5 Betting Tips:
Scott: With their backs against the wall and getting Kadri back from suspension I think the Leafs will have their best performance of the series in this game.
If the Leafs can win this game they will go back to Toronto and have a legit shot at making this a 7 game series.
I want the Leafs to win but the Bruins have looked amazing.  I expect a high scoring game and with the Over/Under at 5.5 I'm going with over
Over 5.5 incl OT – 1u
Canada: 1.91 Odds at BetOnline..
USA: Best Odds at Bovada.
Everyone Else: 1.91 Odds at BetOnline..
(Odds correct as of 2018/04/21 8:53:06 AM EST but are subject to change.)
Graeme: I've made my thoughts on this series already – I just didn't get why so many people fancied the Leafs, and after 4 games I haven't seen anything to really back that up.
Bruins are a beast at home and even if the Leafs play their A++++ game tonight I just don't know if it'll be enough. It's not even about the Bruins either – the Leafs have been disappointing. Zaitsev has been piss poor, Matthews has been disappointing and Andersen needs to step up more for this team like he did in Game 3.
Maaaaybe Kadri returning sparks a big performance from the Leafs. It's highly possible But I've got to go with 1u on Bruins to win in regulation.
Canada: 1.94 Odds at Casumo
USA: Best Odds at Bovada.
Everyone Else: 1.94 Odds at Casumo
(Odds correct as of 2018/04/21 8:53:06 AM EST but are subject to change.)
Follow @BetNHL
BetNHL.ca » Tonights Tips » April 21st, 2018 NHL Betting Tips