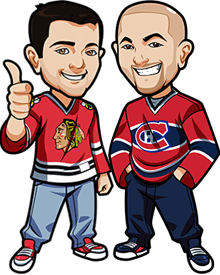 Written by Graeme & Scott on Sunday, April 21st, 2019
Follow @BetNHL
Another one bites the dust.
After 3 disappointing home performances, the Winnipeg Jets stumble out of the 2019 Stanley Cup Playoffs as the St. Louis Blues beat them 3-2.
The Dallas Stars take an impressive 3-2 series lead back home after a fantastic 5-3 win over the Predators.
It was business as usual in Washington as the Capitals thrashed the Canes 6-0 and you have to wonder if Carolina can pick themselves up.
For Sunday, April 21st we could see two more series decided, if the Toronto Maple Leafs or Vegas Golden Knights win.
Both lead 3-2.
Bruins vs Leafs Game 6 Betting Tips:
Scott: And just as was expected, the Leafs won so now its the Bruins turn right? The Leafs are up 3-2 in the series after trading wins up to this point.
The Leafs haven't won a playoff series in 15 years and haven't eliminated the Bruins in the playoffs since 1959.
With my original pick for this series being the Bruins in 7 games I obviously have to back them for this game.
Bruins win incl OT/SO – 0.5u
Canada: 2.11 Odds at BetOnline..
USA: +105 Odds at Bovada.
Everyone Else: 2.11 Odds at BetOnline..
(Odds correct as of 2019/04/21 9:16:16 AM EST but are subject to change.)
Graeme: I took the Leafs to win the series opposing Scott and I'll be getting together with him for Easter. I'll be showing up in a Matthews jersey with a Leafs toque on, Leafs boxers, Leafs PJ pants and a pair of babsocks.
Haha joking. I'd rather jump in a vat of acid.
I WILL be rooting for the Leafs though.
The last game was an interesting one. Bruins fans rightly feel upset about that goal but it just wasn't a good Bruins performance. Can't get those PP opportunities and not score.
I'd say it's close to a coinflip with a small lean towards the Bruins taking it. I think we see a Game 2 type performance but the Leafs are at home and that should hopefully push them to try and match it.
Small bet on the over. Probably more backing this one just from a casual perspective. 0.5u on Over 5.5 Goals. But I could see this game being rife with penalties.
Canada: 1.86 Odds at BetOnline..
USA: -120 Odds at Bovada.
Everyone Else: 1.86 Odds at BetOnline..
(Odds correct as of 2019/04/21 9:16:16 AM EST but are subject to change.)
Sharks vs Knights Game 6 Betting Tips:
Scott: The Knights have another chance to move on in the series. But if they were looking for motivation then the Sharks Tomas Hertl may have given them just that. During an interview Hertl said "We know we have one more game and then come back for Game 7, and I believe it, because we are a better team than them". As you can imagine those words didn't go over well with the Knights.
It was a big win for the Sharks last time out so maybe the momentum will carry over. But those comments may come back to bite Hertl and the Sharks in the ass. The odds are in the Knights favor here and I cant see any value in picking them for those odds so I will avoid a tip for this game.
No Bet
Graeme: The Sharks need to bring their A game. We've seen it two times already in this series and the question is can they bring it again?
I believe if Sharks play to their best, they can win this one. Yet despite that, I just feel hesitant betting 2.50. I feel the Knights will take it. 2.50 has value, but I just don't feel good about the Sharks here.
No Bet
Follow @BetNHL
BetNHL.ca » Tonights Tips »