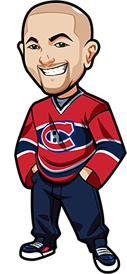 Written by Graeme on Wednesday, April 22nd, 2015
Follow @BetNHL
In the only tip we actually agreed on last night, we went 1-0. That was with the Washington Capitals to win. It was a tremendous game with the Islanders getting the quantity of the shots, but the Capitals the quality. Despite conceding two goals, Halak made a couple of top notch saves to keep the Islanders in it.
A very interesting series that one, and it'll be interesting to see how things go in the rest of the games in that series.
Graeme correctly predicted the Flames would defeat the Canucks, although Scott was on the wrong side of that one. Calgary now head to Vancouver with a 3-1 lead, and it's hard to bet against them at this stage. They are just playing some excellent hockey.
Scott was right on the ball with the Blackhawks game, feeling that they would win it but that they wouldn't do it in regulation time. It took 3 overtimes in this exhausting series for the Blackhawks to get the win.
In the final game of the night, the Red Wings stunned everyone with an absolutely massive win over the Tampa Bay Lightning. They now lead the series 2-1 and play on hime ice again next time out.
You'd think as the teams play more games it'd get easier to pick – but it's really just the opposite. A lot of these games are very tough and it's interesting to see how home ice can change things for teams.
Tonight we've got 4 games on the board. Montreal look to sweep the Senators. Pittsburgh host the Rangers where they need the result badly. Minnesota look to upset the Blues, while the Ducks look to sadly continue their sweep of the Jets.
Going to be a great night of hockey. Let's get to the tips – and just a reminder that Graemes Golf Betting Tips were posted today, for the PGA and LPGA. No European Tour or Champions Tour tips this week.
Canadiens vs Senators Betting Tips:
Scott: With their backs to the wall and on the brink of elimination, the Sens are going to be going all out in this one. Unless they can work a miracle, which they can and have already this season, the Sens have to win out the rest of the series with 2 more games in Montreal. Well if they're going to win a game, it's tonight. Sens Win for 1.86
Graeme: Ottawa continue to battle strong, but the Habs in all 3 games have proven that they are just on another level. Habs are slight underdogs at 1.95. Habs are probably the proper bet to make here – but I just can't do it. I'm not sure why – it's just one of those games where I get a very strong feeling that the Sens can steal one. Who knows maybe mentally they are completely out of it – but I've sat here for an hour and I can't talk myself out of Sens win.
Rangers vs Penguins Betting Tips:
Scott: It's now or never for the Penguins. They have a chance to even the series and make it a best of 3. If they lose they go back to New York down 3-1. It won't be an easy task for the Pens but they have to win this game. Penguins Win for 2.00
Graeme: This is such an interesting series. Fleury has been tightening up which is just what the Pens need. I find it really hard to bet against the Penguins, when they're at home and underdogs. But I'm also not super impressed with what they're saying at the moment. Talking about how they'd be winning if a few different bounces went their way, Malkin already saying he's playing through an injury. Penguins blaming it on line changes as opposed to – you know – Rangers being better? Anyway I honestly can't pick this game. I could argue for both sides very strongly. If the Over/Under was 5.5 I'd take the Under, but it's only 5.
Blues vs Wild Betting Tips:
Scott: The Blues are another team who needs this game to go their way. Win and the series is evened up and they regain home ice. Lose and they are down 3-1 to a streaky Wild team. Blues Win for 2.15
Graeme: I have to go the other side here. I watched all of that Wild vs Blues Game 3 and I was blown away with how good the Wild were. They just looked perfect out there. Everything is going their way. Wild to win. Although in my fantasy hockey at FanDuel i'll be picking Tarasenko as that dude could show up and win this game on his own.
Ducks vs Jets Betting Tips:
Scott: Going to go with the Jets in this one. They have led each game heading into the 3rd period but the Ducks refuse to give up and have came back in each game. They need to figure out how to hold a lead and avoid being swept. Jets Win for 1.80
Graeme: And again, I have to go the other side. I really do think this is too far for the Jets, and I don't have the same opinion as I do about the Sens. Ducks win at 2.05.
Sorry we're on the other side on so many picks today! Just one of those things that happens – if we stuck to the usual schedule of joint picks we'd have almost no picks! Just a case of reading, and trusting one of us on each opinion.
Follow @BetNHL
BetNHL.ca » Tonights Tips »