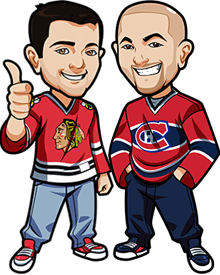 Written by Graeme & Scott on Sunday, April 22nd, 2018
Follow @BetNHL
Another terrific day of NHL action, as the Tampa Bay Lightning become the latest team to make it into the next round of the NHL Playoffs. Graeme picked them to win yesterday, and our official series pick was Lightning -1.5 so it was nice to get that win.
The Jackets vs Capitals series went to yet another overtime and for the first time this series, the Jackets were the team with the most shots. It didn't pan out for them though as the Capitals snuck the win in OT. Have to say it's nice to see the Capitals actually playing with some urgency out there.
The final game of the night saw the Leafs win 4-3 over the Bruins. Scott correctly picked the over in that one while Graeme incorrectly picked the Bruins to win.
Andersen stepped up again which is something the Leafs need if they have any hope of making it to the next round. He has to do that for the next two games. There was also a lot of crazy officiating calls in that one as the Bruins at one point had 4 power plays in a row.
Game 6 in Toronto should be amazing
It's Sunday, April 22nd and we've got two playoff games today with the road teams hoping to wrap up their series. The Penguins and Predators both have 3-2 leads going into these.
Let's get to it:
Penguins vs Flyers Game 6 Betting Tips:
Scott: The Pens get another chance at moving on in this game.  Game 5 was a close one and if not for an empty net goal at the end it would have been a one goal game.
The Flyers are going to need fix their  powerplay if they want to make this a 7 game series.  They have gone 0-11 with the man advantage over the last 3 games.
Matt Murray has been amazing at bouncing back in the playoffs over his career going 9-1 after a loss in the postseason.  With that history and all the experience Pittsburgh has I see them moving on today.  I hope I'm wrong though
Penguins in regulation – 1u 
Canada: 2.14 Odds at Casumo
USA: Bet at Bovada.
Everyone Else: 2.14 Odds at Casumo
(Odds correct as of 2018/04/22 9:45:43 AM EST but are subject to change.)
Graeme: Coots returned for the Flyers and they got the deserved win over the Penguins to keep this series going. Can they do it again? A lot of game time decisions when it comes to injuries with Malkin and Hornqvists status today unknown.
Flyers are yet to win at home in this series and they need to do the business today.
Honestly I want to back the Flyers here but I was very disappointed with them in Game 4 in Philly. I backed them then, and I did not like how they handled the pressure. Penguins attacked fast and furious and they couldn't handle that, then when things didn't go their way they acted like babies. It worries me that they won't be able to handle it here, and the Pens odds aren't worth it. No Bet for me.
Predators vs Avalanche Game 6 Betting Tips:
Scott: It was a crazy finish to game 5 with the Avalanche coming out the winner.  There was no scoring until the half way point of the third when Bonino scored.  The goal went under review but was deemed a good goal.  5 minutes later the Avalanche responded with their own and added another 3 minutes later for the 2-1 win.
But even with the win in game 5 the Avs are going to have their work cut out for them.  The Preds won the Presidents Trophy and that wasn't by chance.  They are a great team and I expect a nice bounce back from them in this one after having a game to study Hammond.
 
Predators in regulation – 1u 
Canada: 2.00 Odds at Casumo
USA: Bet at Bovada.
Everyone Else: 2.00 Odds at Casumo
(Odds correct as of 2018/04/22 9:45:43 AM EST but are subject to change.)
Graeme: Regardless of whether they go through tonight or not the Colorado Avalanche are one of the most impressive teams in the playoffs this season. They scraped through in the wild card but show that they most certainly deserve to be here with some excellent performances against the Preds.
Even in the games they've lost, they've fought hard every single game. And they were able to go to Nashville and get a massive win on Friday.
Sure they had the ridiculous story of Hammond stepping in and doing the business but don't let that distract you from just how hard this team fights and just how damn good MacKinnon is. At the price, I'm completely fine with backing this hard working team at home at this price. Avs to win incl OT/SO for 0.5u.
Canada: 2.60 Odds at Bovada.
Everyone Else: 2.60 Odds at Bet365 (Americans: We recommend http://www.bovada.lv.
(Odds correct as of 2018/04/22 9:45:43 AM EST but are subject to change.)
Follow @BetNHL
BetNHL.ca » Tonights Tips »