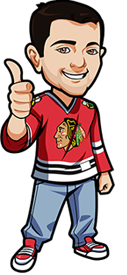 Written by Scott on Wednesday, April 22nd, 2020
Follow @BetNHL
Sorry about not having any tips yesterday. I just had no time.
Despite the lockdown and quarantine I still have to work as my job wasn't shutdown. So days that I don't have to work I try and get stuff done around my house. I managed to get lots of stuff done. Cutting up old dead trees, taking weeds out of gardens, picking up garbage and raking up all of the sticks and branches that didn't survive through the winter. It was a lot of work and that had me tired and in bed before midnight for the first time in ages. Most days I'm not off of work until after midnight so the extra sleep was amazing.
Was able to put together a scavenger hunt for my kids to do while I was outside working to keep them busy. So all of the fresh air and running around had them tired too. We also found four snakes which my kids love. There is nothing in life that scares me except snakes, I hate them. Always tough to put on a brave face around my kids when we find snakes.
Some NHL players in Sweden have been allowed to return to the ice which has upset some players in North America where due to the coronavirus pandemic, arenas and training facilities remain closed in North America to all players unless they are rehabbing an injury. So when the season resumes players from Sweden may have the edge which may change the way the playoffs play out.
Ok so lets get to the tips for today.
NHL Simulations Betting Tips
Sharks vs Senators – The Sharks, on paper are a strong team. But they had a bad year. They are in last place in the Pacific Division and the Western Conference 15 points behind the 8th and final wild card spot.
The Senators weren't expected to have a strong year and despite being in 2nd last place in the Eastern Conference they were better than expected.
I'll take the Sens at home to win for +110 betting odds at Bovada/Bodog
Devils vs Canucks –  The Devils had a bad year too. The entered the season with high expectations having drafted Jack Hughes and also brought in PK Subban and Wayne Simmonds. By December they realized they were bad and traded Taylor Hall. In February they moved longtime defenseman Andy Greene, Sami Vatanen, Blake Coleman and Wayne Simmonds.
The Canucks flirted with first place in the Pacific and when the season ended they were in 9th place but only 1 point behind the Flames for 3rd in the Division.
With the year the Devils had and the way the Canucks played I am taking the Home team Canucks -1.5 for -130 odds at Bovada/Bodog
Follow @BetNHL
BetNHL.ca » Tonights Tips » April 22nd, 2020 NHL Sims Betting Tips