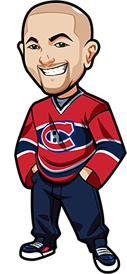 Written by Graeme on Friday, April 22nd, 2022
Follow @BetNHL
Hi guys,
First a quick note that we have been having some real problems with our e-mail server as of late. I won't bore you with the details but it has been taking forever to send out e-mails at times, keeps getting stuck etc. We're working on it but note that if you haven't received tips via e-mail to check the website.
The Leafs whole "losing to the bad teams, beating the good teams" shtick kind of fell by the wayside yesterday just a tad as Tampa came to play. What a huge win for the Lightning.
Very glad to see the Canucks lose. After that Sens loss, they don't deserve to be in the playoffs. That's them pretty much done now. It's pretty much down to the Stars and Knights and I will be hoping the Stars get in as they deserve it that much more this season I feel.
No tips tonight here are my thoughts
Jackets vs Senators:
The Jackets come in off a bad road trip with three losses in a row. They're slight favourites here.
Senators however are performing well overall lately. With some big road wins.
No bet here. I think Jackets get motivated and right the ship with the W but yeah this one seems very coinflippy.
Wild vs Kraken:
Wild are heavy favourites. Any play on them would have to be -1.5. When they win in regulatiom they cover that. Problem ist hey go to OT a lot.
Kraken are such an odd team this season and I'm hesitant to back for or against them. They just got the win over the Avs. In saying that, when they lose in regulation, they usually lose by 2 or more lately.
Empty net stats often come into play in games like this with the handicap. Kraken are piss poor playing with an empty net. Wild are fairly average at scoring against an empty net.
Wild of course are going for franchise records tonight.
It's just so hard to pull the trigger at this point of the season. If the Wild were dominating every team right now I'd back them but so many overtimes that I won't back it. Mathematically, I think Wild -1.5 is probably fine.
Oilers vs Avalanche:
Oilers come in on a 3 game winnung run. Two shutouts during that period too whch is crazy. These two teams just recently played and it had to go to OT. Avs are a bit all over the place with their team right now. I think Oilers could sneak the win here but at about 2.00 it's not there for me.
Coyotes vs Capitals:
Would have to be like Capitals -2.5 on the road and no thanks there. Caps do seem to be kind of rolling a bit going into the playoffs which is good to see. Hope they continue it. Coyotes have shown a lot of fight lately and would be nice to see if they raise their game against the Caps. Honestly the type of game I may throw a bet on the Coyotes. In the world of NHL – 4.25 odds surely has to be +EV.
Follow @BetNHL
BetNHL.ca » Tonights Tips »