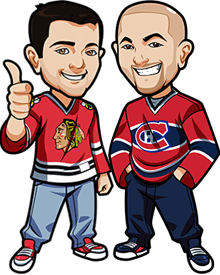 Written by Graeme & Scott on Sunday, April 23rd, 2017
Follow @BetNHL
The second round of the NHL playoffs are a lot clearer after yesterday, as 3 teams have made it and the West is all settled.
In the early game, the St. Louis Blues beat the Minnesota Wild in a thriller. 4-3 was the final score there. The Blues will face the Nashville Predators.
The New York Rangers defeated the Montreal Canadiens and they will face the winners of the Senators/Bruins clash.
Finally the Edmonton Oilers defeated the Sharks despite a great effort by the Sharks at the end. Pity the Sharks waited until the last 10 minutes to really turn up. They will face the Anaheim Ducks.
The playoffs could all be wrapped up today with the Senators vs Bruins game and Capitals vs Leafs game. If the Senators win they go through and if the Capitals win they go through.
Will the Edmonton Oilers be the only Canadian team left standing? Two interesting games today.
Leafs vs Capitals Game 6 Betting Tips:
Graeme: I made my main bet on this series at game 4 when I advised instead of betting the Capitals to win that game, to bet them to win the series instead at 1.83 odds.
At this point I'm not too interested in investing money in either side and really it's tough to advise. Based on their play I like the Leafs tonight however the Capitals are a tempting price based on their overall quality. I'd probably lean Capitals.
Instead I'm going with a player prop. I'm going with Auston Matthews to score a goal. Matthews has scored in the two other games in Toronto, and scored against Washington here during the regular season.
Matthews has scored in the last 3 playoff games and looks like he has found his groove. Based on the last two games in Toronto this should be a high scoring game which helps.
You can bet Matthews to score at 2.75 odds at 888 Sports.
Scott: This is another game where I'm not sure who will win.  One thing is certain though and that's that this will be another great game in the best series of the first round.
The Caps lead 3-2 but each game has been close.  Each game has been decided by a single goal and 4 of the 5 have needed OT.
Tyler Bozak has been playing strongly in this series.  He has 2 goals and 2 assists in the 5 games and plays much better when the Leafs are at home.  He's a leader on this team and they're going to need players like him to step up and force a game 7.  And with the way this series has gone it would only be fitting that it does go to 7 games.
Bet Tyler Bozak to get a point at 888 Sports for 2.05 odds.
Senators vs Bruins Game 6 Betting Tips:
Graeme: This is a tricky one. Based on the odds I think it's hard to bet the Bruins. They haven't exactly stepped up this series. If they step up and take over here then so be it but it's not something you can back.
The Senators are a nice price but then so is overtime at 3.60 odds. 3 of the 5 games have went to overtime thus far and the games that didn't were separated by just 1 goal.
I think that's enough for me to feel comfortable backing Game will go to Overtime. Best price for that is at Bet365 (Americans: We recommend http://www.bovada.lv it looks like.
Scott: With the Bruins winning the last game 3-2 in double OT they will have the momentum on their side.
But with Ottawa still leading the series 3-2 and playing in Boston where they have won all 4 games this season I'm having a tough time calling a winner.
During this series though Bobby Ryan has came to life.  He had a bad year for himself scoring only 25 points in 62 games.  But he has 3 goals and 2 assists in the five games so far registering a point in all but one of the games.
I'm going to be going with Bobby Ryan to record a point at 888 Sports for 2.10 odds.
Follow @BetNHL
BetNHL.ca » Tonights Tips »