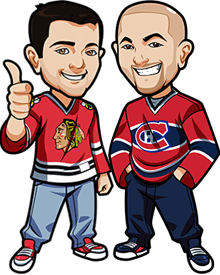 Written by Graeme & Scott on Tuesday, April 23rd, 2019
Follow @BetNHL
Just your typical night in the NHL playoffs last night, with yet another #1 seed being eliminated.
The Dallas Stars went to overtime in a tight game where they beat the Nashville Predators and eliminated them from the NHL playoffs.
The lone remaining #1 seed is the Washington Capitals and they got thumped 5-2. They've been perfect at home though and they'll hope to continue that when they host the Carolina Hurricanes later this week.
Tonight, two more teams will be eliminated as the Boston Bruins host the Toronto Maple Leafs, and the San Jose Sharks host the Las Vegas Golden Knights.
It's going to be a thrilling evening of hockey and we can't wait for it.
Leafs vs Bruins Game 7 Betting Tips:
Scott: Well before the series started I went with the Bruins in 7 and here we are. Game 7 in Boston.
I have to follow my prediction and take the Bruins here. Personally I want the the Leafs to win, sorry San Diego ;), but I think it will be the Bruins moving on to the next round.
Bruins win incl OT/SO – 1u
Canada: 1.74 Odds at Sports Interaction + free $20 bet.
USA: -140 Odds at BetOnline..
Everyone Else: 1.71 Odds at Bet365 (Americans: We recommend http://www.bovada.lv.
(Odds correct as of 2019/04/23 10:29:06 AM EST but are subject to change.)
Graeme: Prior to the series beginning, I said that I would take the Leafs to win it and I felt they'd do it in 7 games.
However I don't think I thought things through. Here we are at Game 7 and I have serious, serious doubts about the Toronto Maple Leafs.
It just seems the Toronto thing to blow it. I hope they don't but Toronto is Toronto. Raps did their duty in losing Game 1 of the NBA playoffs. Now it's Toronto to do theirs. Don't think the Bruins odds are good enough for the bet though. This could go either way. I'd rather be on Boston at this point though. Leafs haven't shown the grit needed for a Game 7.
No Bet:
Knights vs Sharks Game 7 Betting Tips:
Scott: Another great series here that has gone the distance. The Sharks have won 2 in a row to force a game 7. The last game needed parts of 2 overtimes to be completed with Hertl scoring the winner, fitting after his comments.
This will be the first game 7 in Knights history, 2 long years to be exact, so it will be interesting to see how they respond.
With the Sharks avoiding elimination for the last two games and now having a game 7 in San Jose they should have the momentum going for them. Too many questions for me about this game and I'll instead just enjoy it as game 7s are always entertaining.
No Bet
Graeme: This should be a very interesting one. I believe the Knights are the better team but the Sharks have momentum and they have that raw emotion. That can be both good and bad and this is going to be one intriguing game.
I can't pick a side. I'll go with 0.5u that the game goes to OT. Seems like that has value.
Canada: 4.05 Odds at Bovada.
Everyone Else: 4.00 Odds at Bet365 (Americans: We recommend http://www.bovada.lv.
(Odds correct as of 2019/04/23 10:29:06 AM EST but are subject to change.)
Follow @BetNHL
BetNHL.ca » Tonights Tips »