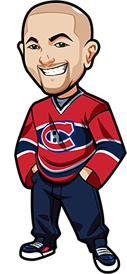 Written by Graeme on Thursday, April 23rd, 2020
Follow @BetNHL
Well the Quarantine Eating Challenge is over with. It came down to Gideon Oji versus Joey Chestnut. Gideon Oji had been extremely impressive going into the final, but Joey Chestnut absolutely crushed him in the final.
Joey started off slow but took the victory. There was that rather controversial win in the quarter finals, but he crushed it with the 10 cups of noodles in the finals beating Oji by about a minute.
To be honest after that video replay that had Joey Chestnut go through I sort of lost interest in it. At that point I knew Joey was taking it. Not saying it was fixed or anything but I wasn't going to be betting against Joey. I ended up taking him in the final at +100 and it was the easiest quarantine eating challenge bet I'll ever make in my life.
We have quote a few things underway at the moment. if you aren't into eSports this is a good time to get into it. I'm not an expert in betting on it but there are some games that I really dig watching.
Be sure to check the comments as one of our regulars, Eric, is super into it and posting a lot of comments and tips.
Betting tips wise I'm going to stay away from it simply because I'm not well versed in it but I'll probably post some random tips later in the comments too when I look at the games taking place.
It's the NFL draft tonight and I'm so starved for sports I'll be watching the entire thing. Of course I will be betting on it too. I've got three bets for that.
I also want to note that BetOnline have a free mock draft where you can win real money. It's a pretty sweet deal and closes tonight at 8pm EST so might as well do it. You have to make 10 picks and you get a prize for the amount of picks. 3-4 correct picks is $10, 5-6 is $50, 7-9 is $100 and 10 is $500. Should be able to get at least 3-4.
NFL Draft 2020 Betting Tips:
It's shitty odds, but I'm taking D'Andre Swift to be the first running back taken in the draft. I would be very surprised if he wasn't the first RB to go. You might be able to bet under on the pick there too. I am seeing a lot of buzz about Clyde Edwards-Helaire but I think that's just your usual pre-draft deal where people look for something unexpected.
I'm also going with Burrow-Young-Okudah as top 3. This is a tough one of course but I think it's the most likely. Just depends if Lions trade their pick but they need Okudah and I think will be happy keeping the pick there and grabbing him.
I'll also take Under 45.5 for Cole Kmet. Dude is a beast and I think someone will grab him before then.
There's a lot smarter people than me when it comes to the draft and college football so let's hear your bets.
Follow @BetNHL
BetNHL.ca » Tonights Tips »