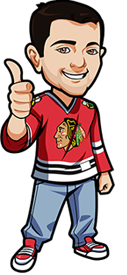 Written by Scott on Tuesday, April 23rd, 2013
Follow @BetNHL
Fantastic night of betting last night. We went 3-0! The Capitals scored first in their win over the Jets. The Bruins vs Flyers game cleared 5.5 goals ending in a 5-2 Flyers win. And the BIG win of the night came when the Sabres beat the Penguins 4-2. If you only took our advice on one tip I hope it was this one as it paid out at 3.00. See I told you I wasn't crazy when I picked them to win.
Only 4 games on tonight; Leafs vs Lightning, Kings vs Wings, Blackhawks vs Oilers and Sharks vs Coyotes. The most interesting game has to be the Kings vs Red Wings to see if the Wings can climb back into the playoffs with a win.
Now the NHL Betting Tips Wednesday April 24th
Maple Leafs vs Lightning: Goal Before 9:30
This is the 3rd and final meeting between these 2 teams with both teams winning a game each with scores of 4-2. The Leafs are looking to solidify their playoff position with a win where the Lightning have been eliminated from the playoff picture and now look to make things miserable for their opponents.
Both of these teams can score and score often. With the over /under at 6 this is expected to be a high scoring game. In their previous 2 matchups a goal was scored before 9:30 of the first in both so I see that trend continuing tonight. Head to Bet365 (Americans: We recommend http://www.bovada.lv and bet that a goal will be scored in the first half of the first period for 1.90 betting odds.
Blackhawks vs Oilers: Blackhawks -1.5
This is the rubber match for these teams with the winner winning the season series. The Oilers are one of only a handful of teams to beat the Hawks in regulation this year. The Blackhawks will look to get back to their winning ways after losing 3-1 to the Canucks on Monday night.
Being that the Oilers have one of if not the best record against the Hawks this year I think the Hawks will do any and everything to make sure that they dont lose the season series to the Oilers. The Hawks will use this game to work out any, if there is any, kinks in their game before the playoffs begin. Bet the Blackhawks will win by 2 or more goals at Bet365 (Americans: We recommend http://www.bovada.lv for 2.92 odds
Kings vs Red Wings: Over 5 Goals
This game is going to be good. The Red Wings are in 9th place and are not used to missing the playoffs. But the Kings are not going to roll over and give them this game. With the Over / Under set at 5 I belive its a safe bet that this game will go over.
And at 5 goals even, not 5.5, its a great risk. The Red Wings will be going as hard as they have this season to jump over the Blue Jackets and Wild into 7th place especially with only 3 games left they can't afford to not go all out. The winner of this game will also win the season series . Bet that this game will go over 5 goals at Bet365 (Americans: We recommend http://www.bovada.lv for even 2.00 betting odds
Follow @BetNHL
BetNHL.ca » Tonights Tips »